New Casino Games Spotlight: Green Machine Supreme Slot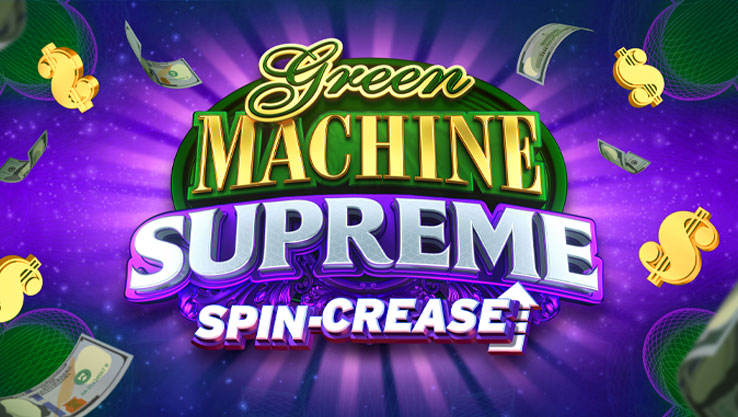 Updated:
Play Green Machine Supreme slot from High 5 games today this 5x5 reel slot game offers a fantastic gaming experience. With its 96.90% RTP and many bonus features, you stand a chance to increase your winnings. The Green Machine Supreme slot is available on FanDuel for mobile and PC gamers. In this review, we will be looking closely at all the features in this High 5 games real money slot machine.
If you're a fan of slot machines, you wouldn't want to miss out on this game. The Green Machine Supreme slot is for all level of players, and features lots of paying symbols. It has special features that increases the symbols on the reels and your chances of making winning combos
How to Play Green Machine Supreme Slot
You don't have to be a pro to play Green Machine Supreme slot machines. The game comes with a medium volatility so it is for newbies and experienced players. You can match three or more symbols to get a payout and if you're lucky to hit the jackpot, you'll get 1,264x your stake.
The Green Machine Supreme real money slot has a 31% hit frequency which means that you are going to win a payout at least in every three spins. Players can bet as low as 20¢ in this High 5 slot machine. The best part is there isn't a maximum limit set for wagers. So, it is up to the player to decide how much they can afford to risk.
Green Machine Supreme Slot Visuals and Sounds
Looking at its design, you would love it when you launch the game. The Green Machine Supreme slot machine is a modern slot with very simple patterns. The game is set on a 5x5 grid layout which is sitting on a golden frame. Unlike most slot machines, this High 5 game doesn't have a payline and it doesn't have a theme. Instead, what you'll see is a lot of green dollar bills and some captivating lightning animations.
Jackpot on Green Machine Supreme Slot
You'll find five jackpot symbols in the Green Machine Supreme slot. These symbols include:
Lime green jackpot symbol (on reel 2),
Blue jackpot symbol (on reel 3),
Orange jackpot symbol (only on reel 4); and
the purple jackpot symbol ( on reel 5).
Each time you land the jackpot symbol, you'll get a payout equal to the value of the prize displayed on the symbol.
Special Features of Green Machine Supreme Slot
When you play the Green Machine Supreme slot, you'll come across a lot of paying symbols. We will mention some of the very special bonus features in the Green Machine Supreme slot.
Bonus Round Feature
This High 5 games slot offers players free spins in the game. One thing you should know about Green Machine Supreme slot is that all the symbols literally act as scatters. However, if you are to land a scatter with the inscription " Free Spins", then you get extra rounds. The number of free spins you get will depend on what is written on the symbol. It is usually between 3 to 5 free spins and you can also retrigger the free spins multiple times.
Standard Scatter Pays
In the Green Machine Supreme slot, you'll see the brown portrait, silver portrait, and the girls of portrait, all with a white centre. If you match these symbols, you will win the cash value displayed on the symbols. If you get multiple of these symbols with different values, you will be paid the sum of all the numbers on the symbols.
Wheel Feature
You can land the colorful wheel symbols to get this feature. When you match the symbols, you'll see a wheel displayed on your screen. After it spins, you will get the value you see on the gold portrait with the white centre. The game may also payout the highest value you get on the silver portrait with the white centre.
Power Bet Feature
You can activate this feature manually when you click on the power bet button. You'll have the option to purchase three power bet options, i.e. the 15x, 30x, or 45x stake to get 15,30, or 45 bets. After completing your purchase, you will be able to increase your winnings. The power bet feature allows the reels to expand its height so more symbols are included in the reels. After the feature ends, the reel returns to its original size.
Spin-Crease Feature
You can get up to 20 spon-crease points combined with a multiplier reward for each bet you place. You'll see the spin -crease points filing up on the meter displayed on your screen. Usually, if you land the brown, silver, and gold portraits with the white centre, they pay the lowest multipliers. Each time the meter fills up, you can claim the spin-crease rewards.
Is Green Machine Supreme a Good Online Slot Game?
Now that you know what the Green Machine Supreme slot is all about, why not head over to FanDuel casino to play this game. You can play this real money slot machine from High 5 games along with their other online casino games. The Green Machine Supreme slot may have a simple design but still it's interface is fantastic. You'll enjoy every minute playing this slot machine.
What makes this High 5 game stand out are the number of bonus features in the game. You'll encounter lots of them during the game play including their jackpot.
Please note: Some FanDuel casino games may not yet be available in your state, or on your preferred app. Please check your iOS/Android app and visit casino.fanduel.com or fanduel.com/casino for announcements about the latest casino games available.