New Casino Games Spotlight: Arthur Pendragon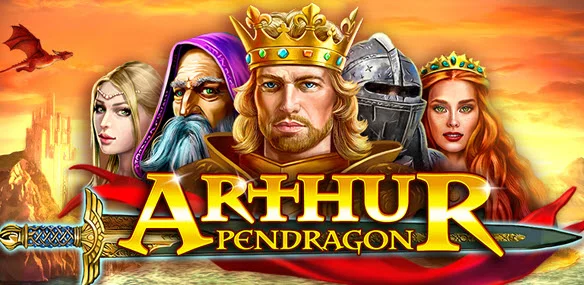 Updated:
Arthur Pendragon slot was created by IGT, one of the leading game developers today. This online casino slot is inspired by the story of King Arthur. It is a history-themed slot with a promising adventure. Arthur Pendragon is set on a 5x4 reel layout with 40 paylines. IGT included a couple of unique features and impressive winning combos.
Unlike most slot games, Arthur Pendragon doesn't include multipliers. Instead, it has other more captivating features that attracts bigger wins. The game can pay as high as 200x your stake. It is not surprising that this game developer designed a fantastic game. Arthur Pendragon slot offers not only fantastic visuals but an amazing gaming experience. In our review, we will address some of the special features like the Wild Pays and Free Spins in the game.
How to Play Arthur Pendragon Slot
If you're familiar with online slots, playing this game should be easy. Arthur Pendragon is set on a five by four reel layout. Players can play to win in any of the 40 active paylines. This IGT game has an RTP of 96.43% which is around the standard for most casino games.
Arthur Pendragon has a medium volatility which means you can still get some decent winnings from your stake. To begin the game, you first have to set your betting limit. Punters can wager as low as 20¢ or even up to $200 in this game. To win, you'll need to match three or more of the same symbols on the active paylines.
Arthur Pendragon Slot Visuals and Sounds
This IGT slot, like most of their games has high quality graphics. You will love the game's design, especially as it takes you back in time. Arthur Pendragon is about the famous ruler King Arthur. He was known to have fought against the Saxon invaders as far back as the 5th century. Arthur had very wild exploits especially as it involves a lot of mythical tales.
This real money slot features the familiar Camelot castle and it's surrounding landscape view. You'll be treated with the beautiful scenery of rivers and fields. At the background, you'll hear an orchestral music playing. In addition, Arthur Pendragon features very colorful symbols. Some of them are high paying while others are the low paying symbols. There is the main character King Arthur, and his wife, Guinevere. Other symbols includes the regular royal cards A to 10.
Special Features of Arthur Pendragon Slot
Like most IGT slots, Arthur Pendragon comes with unique features. There are two special features in the game that stand out, Wild Charges then Pays feature and Free spins.
Wild Charges Then Pays Feature
A player can trigger this feature with the holy grail symbols. When this happens the symbols will leave as Golden Frame on the reels in their position. The golden frame is sticky and will be there for 10 spins. It will eventually turn to wilds. After the 10 spin cycle completes, the spin counter will reset back to 1. Also, the golden frames will disappear.
Free Spins Feature
For the free spins, you'll need to match three Merlin symbols on the reels. It will award you free spins. The scatters have the ability to bring different amount of wilds and spins. Here's a breakdown of what this feature offers:
3 Scatters gives:
15 spins + 5 wilds
10 spins + 7 wilds
5 spins + 10 wilds
4 Scatters:
30 spins + 5 wilds
20 spins + 7 wilds
10 spins + 10 wilds
5 Scatters:
45 spins + 5 wilds
30 spins + 7 wilds
15 spins + 10 wilds
A player can retrigger this features up to four times in the game.
Is Arthur Pendragon a good online slot game?
There is no doubt that Arthur Pendragon is a fantastic online slot game. If you're lucky, you can get up to 200x your stake in this game. If you haven't played Arthur Pendragon, you can now do so at FanDuel. Luckily, this game is also available for mobile play. It has been fully optimized for mobile devices and tablets.
Please note: Some FanDuel casino games may not yet be available in your state, or on your preferred app. Please check your iOS/Android app and visit casino.fanduel.com or fanduel.com/casino for announcements about the latest casino games available.