New Casino Games Spotlight: 10,000 Wonders, 10K Ways Slot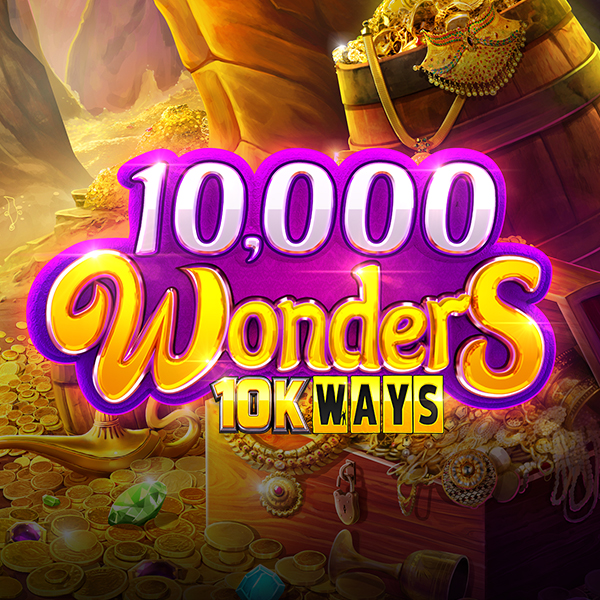 Updated:
If there's one slot machine you wouldn't want to miss, it's 10,000 Wonders,10K Ways. This real money slot machine is an Arabian-themed game with 6 reels and 10,000 paylines. You can win up to 5,662x your stake if you're lucky, which is as good as any jackpot. In this review, we will be looking at the special features in the 10,000 Wonders, 10K Ways real money online slot.
The game is based on the popular story of Arabian nights. It has amazing graphics and visual effects throughout the game. Luckily FanDuel is offering this amazing real money slot machine from NetEnt. So, keep reading for an unbiased review of this 10,000 Wonders,10K ways game.
How to Play 10,000 Wonders, 10K Ways Slot
As we already mentioned, this NetEnt game comes in a 6-reel layout. As a result, it's not like the standard 3-reel slot machines. Instead, it is more entertaining, and you can get more winning combos from 10,000 Wonders, 10K Ways slot. If you're lucky, you can match the symbols up to 10,000 ways to win the maximum payout. When you launch the 10,000 Wonders, 10K Ways game, you can begin by setting your wager amount. Players can choose to bet a minimum of 20¢ or up to $40 per spin.
Next, you can spin the reels to get impressive payouts. In 10,000 Wonders 10K Ways, you can match 3,4,5, or up to 6 symbols to win. The payout starts from reel 1 in this game. You should look out for high paying symbols if you want to get bigger payouts in this NetEnt slot machine.
Each time you make a winning combo, you'll see an explosion. After that, all the symbols will be blasted off the reels, and then new symbols will appear. This will continue to repeat itself until you no longer have any more winning combinations. 10,000 Wonders, 10K Ways has an RTP of 96.16% and is a medium to high volatility slot. As a result, you will rarely get big wins but if you're lucky you can land a maximum payout of 5,662x your wager.
10,000 Wonders, 10K Ways Slot Visuals and Sounds
You'll love the design of this NetEnt game. 10,000 Wonders 10K ways has a backdrop of the Arabian city and the reels are set inside the marble columns. It's hard to miss since it has a deep green color. The game is also has a matching soundtrack that fits the Arabian theme. Anytime you land a winning combo, you'll hear some really interesting music playing in the background.
In addition, 10,000 Wonders 10K Ways slot comes with lots of paying symbols. The special symbols in the game are the magic lamp which is the scatter, the temple as the Wild, white bird, and the Aladdin symbol. You'll also find the regular 9 royals in this NetEnt slot machine.
Special Features of 10,000 Wonders, 10K Ways Slot
There are not many features in 10,000K 10K Ways. However, who needs a lot of them when this game pays out a whopping 5,662x your stake?
Bonus Respins Round
The major feature you'll find in this amazing slot game is the Bonus Respins round. This special round can pay up to 2,000x your stake. However, to activate this bonus round, you'll need to match the scatters.
The magic lamp acts as the scatter in this game, and if you can match 6 or more of it, you get a bonus round. The initial match you get will give you 3 re-spins, and during this round, you can still get more magic lamp symbols. This will also give you additional re-spins by resetting it to 3 again. In addition to the re-spins, there's also a cash value on each magic lamp. So, if you use all the re-spins, you'll also get the cash value added to your total payout.
Special Diamond Bonus
Also, in this game, you'll find some special bonus prizes too that come with the Arabian lamps. If you're lucky to get find these diamonds, you'll get a special reward. Here's a breakdown of the payout for the diamond bonus.
Red Diamond = 10x
Pink Diamond = 50x
Green Diamond = 250x
Blue Diamond = 2,000x
Is 10,000 Wonders, 10K Ways a Good Online Slot Game?
Now that you know all about the 10,000 Wonders 10K Ways slot, you should try it out. If you're a fan of the Arabian Nights tales, you'll love this real money slot machine. You can play this fantastic slot game on your mobile or PC. The game is optimized for a mobile experience, and you'll still get the same high quality graphics and effects on your mobile.
10,000 Wonders 10K Ways slot offers players up to 10,000 ways to win. You can try your luck to get the maximum payout. Luckily, FanDuel has this game along with other fantastic NetEnt slot machines.
Please note: Some FanDuel casino games may not yet be available in your state, or on your preferred app. Please check your iOS/Android app and visit casino.fanduel.com or fanduel.com/casino for announcements about the latest casino games available.