Nathan's Hot Dog Eating Contest Odds: Joey Chestnut Not Projected for New Record on 4th of July on FanDuel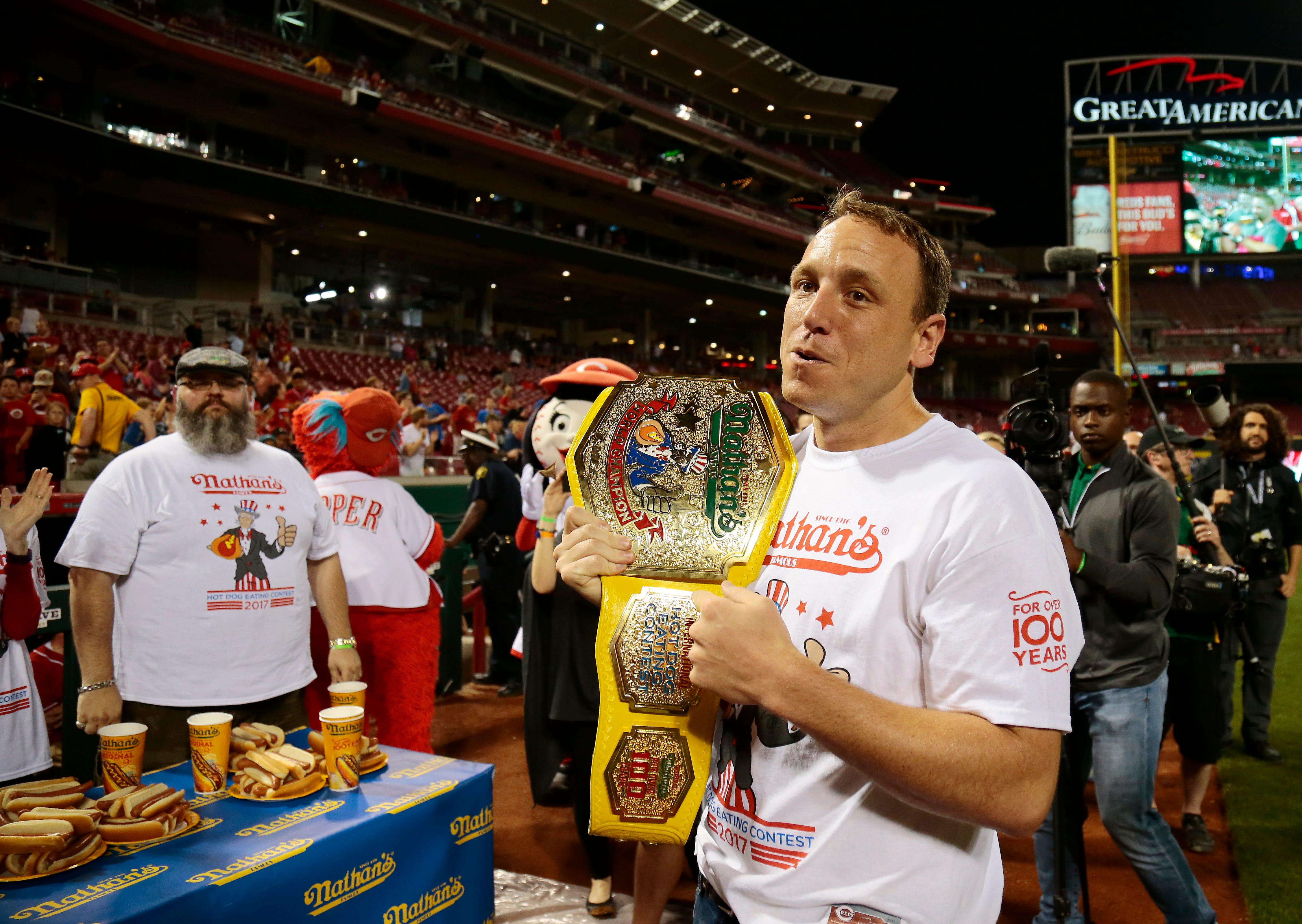 Updated:
New Year's Day has college football. Christmas Day has the NBA. And July 4 has the Nathan's Hot Dog Eating Contest.
And for as much as we've seen legends come and go in the NCAA or the NBA, there aren't many people on the planet that have been more dominant in their field than American legend Joey Chestnut.
The unquestioned greatest hot dog eater of all time will be back to defend his title on Monday, and FanDuel Sportsbook has odds for the event.
Joey Chestnut Hot Dog Odds
It's not a matter of whether Chestnut will win this year's contest, but whether he will break his own record of 76 dogs. This year, the betting markets seem to be projecting that he'll fall short.
FanDuel has the over/under on Chestnut's total set at 74.5. The over is a favorite, but at -150 that's a close enough line that we can safely assume the under would be the favorite if we bumped the line up to 76.5.
Of course, record or not, the odds also have Chestnut as a comically large favorite to win the event. Here's how he stacks up against the field:
Joey Chestnut (-4000)
Geoffrey Esper (+1600)
NIck Wehry (+2300)
James Webb (+2800)
Gideon Oji (+3400)
Darren Breeden (+3400)
Nathan's 4th of July Hot Dog Eating Contest Women's Odds
On the women's side, we're witnessing the return of another legend. New Yorker Miki Sudo did not participate in 2021 due to pregnancy, but she took home seven straight titles from 2014 to 2020. And looking at the winning total in her absence (30 3/4), she would have beat that mark in any of her seven wins.
Most recently, Sudo set the women's record for hot dogs with 48.5 eaten.
Like Chestnut, the betting markets don't favor another record being set in 2022 unfortunately. Her over/under is set at 46.5 hot dogs, with the under stacking up as a -140 favorite.
If you don't think that Sudo will return in peak form, pickings are slim in the field. Here are how the odds stack up to win the event:
Miki Sudo (-2000)
Michelle Lesco (+900)
Any woman other than Miki Sudo or MIchelle Lesco (+900)
Hot Dog Eating World Record
The last two years have been special ones in the hot dog eating world. In 2020 we saw a new women's record set for hot dogs eaten in 10 minutes, while that was followed up with a new men's record in 2022.
World Record Hot Dogs (Men)
Joey Chestnut holds the men's world record in hot dog eating, having devoured 76 "hot dogs and buns" (HDB) in 10 minutes at the 2021 Nathan's Hot Dog Eating contest.
World Record Hot Dogs (Women)
On the women's side, Miki Sudo holds the hot dog record after knocking back 48 1/2 HDB in 10 minutes in 2020.
Joey Chestnut World Records
Chestnut's hot dog eating is obviously his most famous skill, but he's also an incredibly versatile competitive eater. Major League Eating credits him with a whopping 52 world records, which are as follows:
Chicken Wings (Long Form) - 182 chicken wings in 30 minutes
Hot Dogs - 76 hot dogs and buns in 10 minutes
Pulled Pork Sandwiches - 45 in 10 minutes
Tacos (Taco Bell) - 53 soft beef tacos in 10 minutes
Chicken Wings - 7.61 pounds buffalo chicken wings in 12 minutes
Hamburgers (Krystals) - 103 Krystal burgers in 8 minutes
Meat Pies - 23 6oz meat pies in 10 minutes
Donuts (Glazed) - 55 glazed donuts in 8 minutes
Eggs - 141 hard boiled eggs in 8 minutes
Asparagus - 12lbs 8.75oz deep fried asparagus spears in 10 minutes
Pork Ribs - 13.76lbs pork rib meat in 12 minutes
Corned Beef Sandwiches - 20 8-oz sandwiches in 10 minutes
Apple Pie - 4.375 3-pound apple pies in 8 minutes
Philly Cheesesteaks - 23 6-inch sandwiches in 10 minutes
Funnel Cake - 5.9lbs in 10 minutes
Fish Tacos - 30 6-oz tacos in 5 minutes
Tacos, Traditional (3-inch tortilla) - 126 tacos in 8 minutes
Mutton sandwiches - 81 4-oz sandwiches in 10 minutes
Jalapeno Poppers - 118 in 10 minutes
Pepperoni Rolls - 36 in 10 minutes
Shrimp Wontons - 390 in 8 minutes
Pulled Pork - 9lbs, 6oz meat in 10 minutes
Horseshoe Sandwiches - 6lbs, 5oz in 12 minutes
Pulled Pork Sliders - 62 in 10 minutes
San Pedro Fish Market Shrimp - 7lbs in 8 minutes
Canteen Sandwiches - 18.5 in 10 minutes
Gyros - 30 8-oz gyros in 10 minutes
Pork Roll Sandwiches - 61.5 4-oz sandwiches in 10 minutes
Burritos (Long Form) - 14.5lbs burritos in 10 minutes
Twinkies - 121 Twinkies in 6 minutes
Boysenberry Pie - 14.5lb in 8 minutes
Tamales - 102 in 12 minutes
Gyoza - 184 in 10 minutes
Pastrami - 25 7-oz sandwiches in 10 minutes
Gumbo - 1.875 gallons in 8 minutes
Ice-Cream Sandwiches - 25.5 in 6 minutes
Grilled Cheese Sandwiches - 47 in 10 minutes
Poutine - 28lbs in 10 minutes
Shrimp Cocktail - 18lb 9.6oz in 8 minutes
Hostess Donnettes - 257 in 6 minutes
Salt Potatoes - 13lbs in 10 minutes
Turkey (Whole) - 9.35lbs whole turkey in 10 minutes
Pierogi - 165 in 8 minutes
White hut Cheeseburgs - 52 in 10 minutes
Pizza Hut P'Zones - 7.5 in 10 minutes
Kolache Factory Kolaches - 56 in 8 minutes
Brain Tacos - 54 in 8 minutes
Croquetas - 185 in 8 minutes
Carnitas Tacos - 82 2-oz tacos in 8 minutes
H-E-B True Texas Beef Brisket BBQ Sandwiches - 27 in 10 minutes
Waffles, Eggo-Style - 81 in 8 minutes
Ramen Noodles (Short Form) - 10 cups in 1:50