Minnesota vs Penn State: Will quarterback injuries change the game's outcome?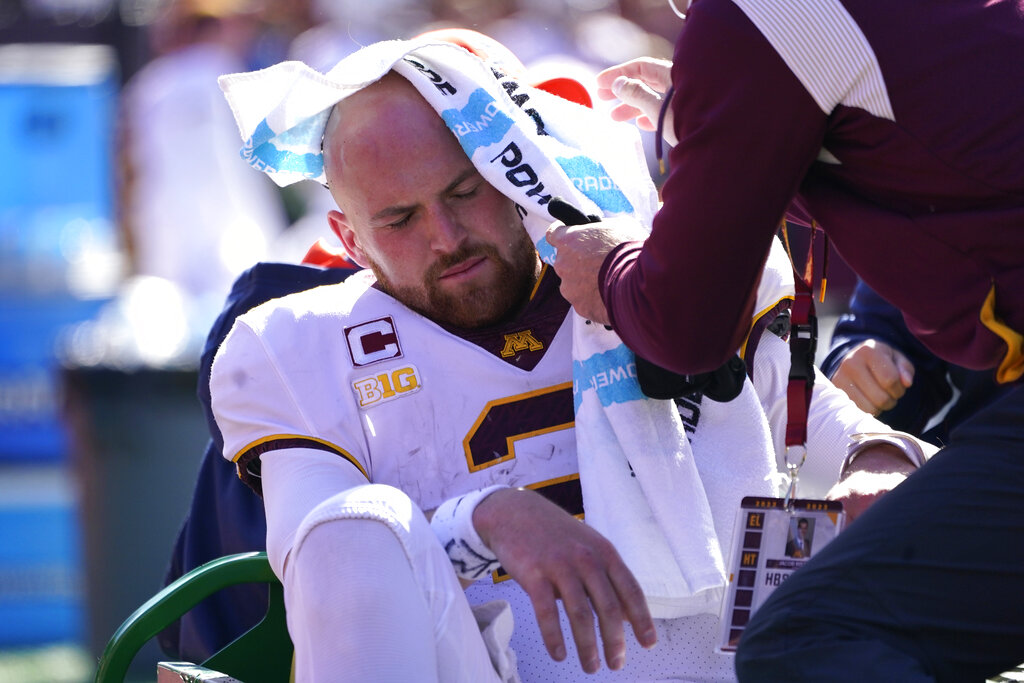 Updated:
Minnesota Injury Report
The Minnesota Golden Gophers are coming off a 26-14 loss against the University of Illinois. In their road loss, they lost quarterback back Tanner Morgan with an upper-body injury. Morgan took a blow to the helmet from Illinois freshman linebacker Gabe Jacas while running for a first down.
Minnesota coach P.J. Fleck said at his Monday press conference that "Tanner is doing very well. Woke up on Sunday morning and surprisingly felt really good, which is great. He was evaluated at the medical center right after the game, which I know all of you saw. He was cleared by the medical teams and the medical staff, where he was to be able to fly home with the team."
Morgan was struggling before leaving the game, completing just 4-of-12 passes and throwing an interception.
Backup quarterback Athan Kaliakmanis is expected to start if Morgan, who is listed as questionable, can't play. Kaliakmanis has thrown for 84 yards with no touchdowns and 2 interceptions on the season.
Superstar running back Mohamed Ibrahim battled an ankle injury against the Purdue Boilermakers that kept him out of the game. The Golden Gophers lost the game without their workhorse running back and averaged just 1.8 yards per carry in his absence.
Ibrahim returned last week against the University of Illinois and had a monster 127-yard rushing day. He dominated, averaging 8.5 yards per carry in the team's two-score loss. Accordingly, Ibrahim seems to be healthy heading into this week's matchup.
Penn State Injury Report
Penn State just lost one of its biggest games of the season against its Big Ten rival, as the Michigan Wolverines put a 41-17 beatdown on the Nittany Lions. And to make matters worse, starting quarterback Sean Clifford exited in the fourth quarter with an injury.
Penn State coach James Franklin does not discuss injuries unless they're season-ending. "Nothing has changed with the plan or the model at this stage," Franklin said.
There is a possibility that Clifford was taken out because he was having a poor game and the contest was essentially over. His backup, Drew Allar, is available if his injury is more severe than Franklin is letting on.
Offensive lineman Landon Tengwall started the first five games of the season before suffering a pregame injury against Michigan.
Franklin spoke about Tengwall's absence at his weekly press conference on Tuesday.
"It's Tuesday. We haven't practiced yet. It's not a season-ending injury, so I won't address it unless it's a season-ending injury," Franklin said. "We have not practiced yet, and I'm not sure if he will be available or not."
Last week, Tengwall's inactive status raised questions about his availability for the team's critical matchup. Look for Tengwall to participate in pregame warmups to see if he's ready to go.
Minnesota vs Penn State Week 8 Odds
Penn State is favored by 5.5 points at home against Minnesota and the over/under is 43.5, according to FanDuel Sportsbook's NCAAF odds.
For injury-based picks throughout the season, sign up for SIC Picks here.
Sports Injury Central is the home of Pro Football Doc – the FanDuel Official Injury Expert – and a leading panel of former team physicians from the NFL, CFB, NBA, and MLB. The team analyzes injuries to give fans an edge with their wagering and fantasy sports activities.