Let It Ride Video Poker - FanDuel Casino Review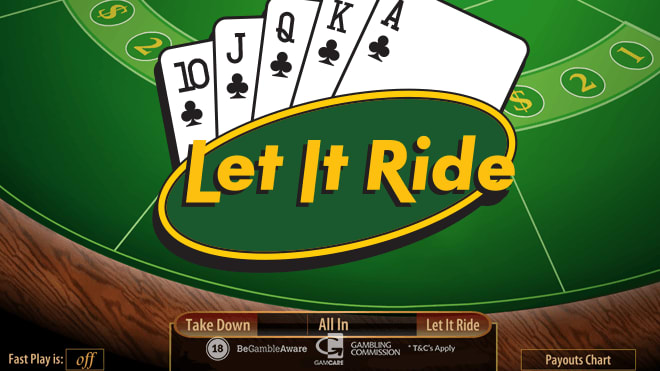 Updated:
Let It Ride is a poker-based table game that was first created in 1993 by Shuffle Masters Inc, a company known for producing automatic shuffling machines. It was adapted for online play by SG Digital in 2018 with an RTP of 96.49%.
In this poker variant, you're not betting against the dealer or other players. You are dealt three-hole cards, and your objective is to make the best five-card poker hand possible using the three-hole cards and two community cards.
Let It Ride Video Poker Gameplay
To begin the game, first choose your bet. You need to make three equal bets in the circles marked $, 2, and 1. You can bet a minimum of 0.01 and a maximum of 100 per circle. You can also place an optional 3 card bonus bet ranging from 0.01 to 100 for a chance to win an extra payout based on your three or five-card hand.
After choosing your bets, you click on the deal button to start the game. You are dealt three hole cards, with two community cards face down. When the community cards are revealed, they count as your 4th and 5th cards. You have a choice to withdraw the bet, pull; or keep it in action, let it ride before each community card is revealed - but this only applies to two of your three bets on the circles.
After both community cards are revealed, if you have less than a pair of 10s, all the bets left in action lose. But if you have a pair of 10s or better, you receive payouts according to the $/2/1 paytable on all the bets left in action. The optional 3-Card-Bonus side bet is based on your initial three-hole cards only. Your pay corresponds to the value of your cards on the 3-Card-Bonus pay table posted within the game.
Typically, you should let the first bet ride if you have:
A pair of 10s or better (a winning hand).
Three cards to a Royal Flush.
Any three cards to a Straight Flush.
You should let the second bet ride if you have:
A pair of 10s or better.
Any four cards to a Straight Flush or a Royal Flush.
Any four cards to a Flush.
Any four high cards.
Any four-card open-ended Straight.
Standard Let It Ride Video Poker Payouts
Royal flush: 1,000:1 payout.
Straight flush: 200:1 payout.
Four-of-a-kind: 50:1 payout.
Full house: 11:1 payout.
Flush: 8:1 payout.
Straight: 5:1 payout.
Three-of-a-kind: 3:1 payout.
Two pair: 2:1 payout.
Pair of 10s or better: payout.
To master the game, you can first play the free demo version until you feel confident enough to play for real money at FanDuel Casino.
Let it Ride Video Poker Graphics and Sounds
The graphics offered here are as good as you'd expect from a modern game. The game features a poker table, an automatic dealing machine, and stacks of coins. The game's control buttons are on the lower right side of your screen, and the coins to choose your bet are on the lower left. Your balance and winnings are displayed underneath the coins.
When you click the deal button, cards are dealt from the automatic dealing machine. The cards are laid face down on the poker table with the SG Digital logo on their backsides. You can access the instructions of the game and the paytable by clicking on the stacked coins symbol on the right of your screen.
Let It Ride Video Poker offers a decent-paced soundtrack, that speeds up at the end of the round, with some percussion added in. You hear clicks whenever you click on a button, or cards are dealt or flipped.
Special Features
The only special feature offered here comes in the form of an additional 3-Card-Bonus bet. This makes you eligible for bonus payouts on certain hands. This bonus bet works similarly to the pair plus wager in three-card poker. Your payout is based only on your three-hole cards.
Winnings are paid according to the 3-Card-Bonus pay table:
Mini royal flush: 50:1 payout
Straight flush: 40:1
Three-of-a-kind: 30:1
Straight: 6:1
Flush: 4:1
Pair: 1:1
Conclusion
Let it Ride is an online video poker based game that is very easy to master for players with its simple, uncomplicated strategy. The game offers a free demo that helps players get familiar with the workings of the game without risking real money.
New FanDuel Casino customers get to play your first day risk-free up to $200 when you sign up today!