Joe Burrow Appendectomy: Why His Recovery Hasn't Been Straightforward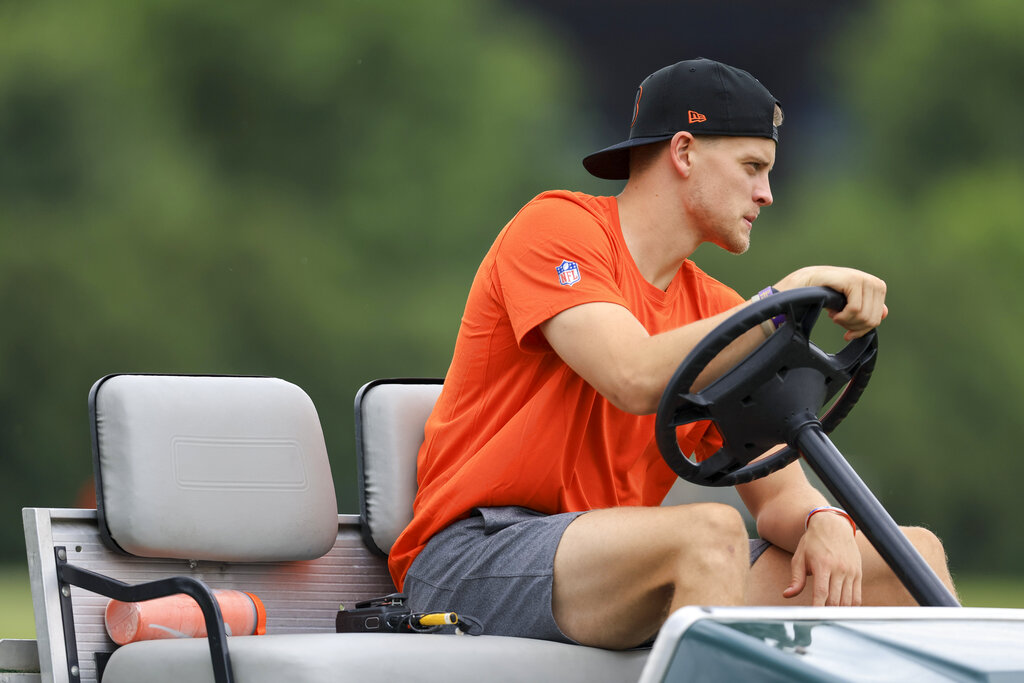 Updated:
Cincinnati Bengals head coach Zac Taylor told reporters earlier this week that quarterback Joe Burrow won't play in the team's first preseason game and still has no timetable for a return over two weeks since he underwent an appendectomy.
Burrow had an IV in his arm at practice until just over a week ago, meaning he likely had inflammation and the risk of infection during his recovery, according to the Pro Football Docs. It is abnormal to receive antibiotics through an IV after an appendectomy.
Despite the extended absence following the July 26 surgery, the third-year quarterback is still likely to be ready by Week 1 in less than a month, according to the Pro Football Docs. He retains an SIC score of 96 for the season.
Joe Burrow Injury Update
Burrow returned to practice for the first time on Aug. 1 but appeared with a mobile IV strapped to his arm and was captured moving gingerly while getting off of his cart.
Burrow shed the IV on Aug. 4, nine days after his appendectomy. He used the cart until this past Monday, when he participated in individual workouts and threw his first pass of camp.
The third-year quarterback has yet to give an update on his health in his own words.
Burrow may face some challenges in his conditioning after being essentially immobile for two weeks, according to the Pro Football Docs, but it shouldn't impact his availability or effectiveness in Cincinnati's season-opener against the Pittsburgh Steelers.
The Bengals are listed as -300 favorites with a 6.5-point spread, according to NFL odds on FanDuel Sportsbook.
Burrow's dad, Jimmy Burrow, hinted at an extended rehab timeline during an appearance on Bengals radio announcer Dave Latham's In The Trenches podcast, noting that he would "hopefully" return to practice "here in a few weeks."
"It's actually major surgery," the elder Burrow said. "He's gotta listen to his doctors… and take it easy… I'm not sure [if it was ruptured], I'll let Joe ever, if he wants to tell you the details… he's on the mend now."
Bengals Super Bowl Odds and Joe Burrow MVP Odds
Despite coming within a fourth-down conversion of winning the Super Bowl last February, FanDuel Sportsbook has given the Bengals the 11th-best odds to win the Lombardi at +2200 and the seventh-best to win the AFC at +1200.
Similarly, Burrow is listed at +1200 to win the MVP, +900 to lead the league in passing yards, and +1200 to lead the league in passing touchdowns.