Jayden Reed Complete NFL Draft Profile (Return Ability Not Enough to Justify High Pick on Michigan State WR)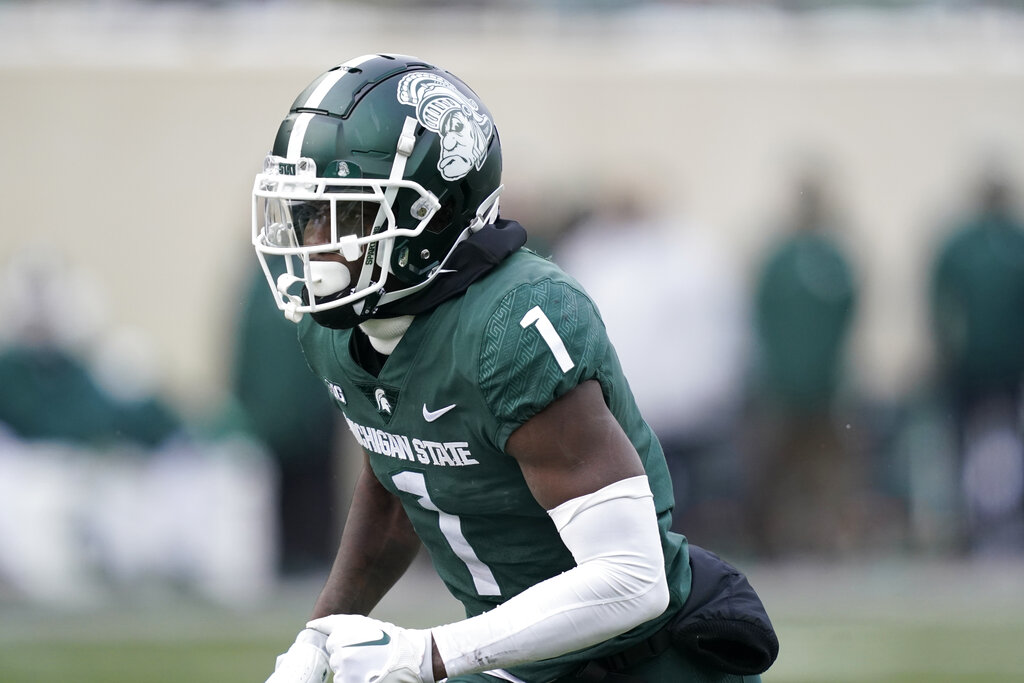 Updated:
Michigan State wide receiver Jayden Reed is headed to the 2023 NFL Draft following a 2022 season that saw his production fall from the heights he reached in 2021. His value as a receiver combined with some flashes as a return man (1 punt return TD as a freshman in 2018 and 2 more in 2021) could give him some interesting value.
Here's everything you need to know about Jayden Reed heading into the 2023 NFL Draft.
Jayden Reed Draft Stock & Mock Draft Projections
Mock Draft
Team
Round
Overall Pick
Walter Football
New York Giants
4
128
Sporting News
San Francisco 49ers
3
101
CBS Sports
San Francisco 49ers
3
101
Pro Football Network
Houston Texans
3
73
Mock draft sources accurate as of 4/22: Walter Football, Sporting News, CBS Sports, Pro Football Network, ESPN.
Projected Draft Round: Round 3 (4), Round 4 (1)
Projected Team: 49ers (2), Giants (1), Texans (1), Packers (1)
Jayden Reed Scouting Report
Jayden Reed is a versatile wide receiver from Michigan State known for his competitive spirit and ability to contribute in multiple roles, including as a punt and kickoff returner. Standing at 5'11" and showcasing impressive athleticism, Reed has the capability to operate as a possession target rather than a field stretcher. Although his size may be smaller in comparison to some of his peers, he has shown determination in fighting through tight press cover jams and making contested catches.
Reed's route running is crisp, and his football intelligence is apparent as he takes advantage of open seams when his quarterback is on target. He is reliable when catching balls in traffic over the middle and is often utilized on deep routes, displaying good separation along the sidelines or over the middle on crossing routes. However, his playing speed is less than elite, which could limit his ability to run past defenders at the professional level.
One area of concern for Reed is his ability to track the ball downfield. He tends to let the ball get into his body instead of snatching it with his hands, leading to occasional focus drops. His catch radius is also limited due to his shorter arms, which could pose challenges when competing against longer defensive backs. Additionally, his frame may put him at risk of being outmuscled in contested situations.
Reed's blocking in the run game is a non-factor, and he plays with below-average strength is under average. His short-area quickness and acceleration are not as strong as his forty-time may suggest, as evidenced by his 2.57 10-yard split. Despite these weaknesses, Reed remains an intriguing prospect due to his explosive athleticism, route running, and overall versatility. His tenacity and willingness to contribute in various roles make him a valuable option for teams looking for a dynamic receiver in the 2023 NFL Draft.
Jayden Reed NFL Draft Prediction
I've gotta say, I don't get the Jayden Reed hype. An undersized wideout whose collegiate production doesn't really jump off the page isn't an exciting sell in a draft room, and while he had a couple of solid years as a returnier, that wasn't exactly consistent and isn't something that warrants a high selection. I don't see him having his named called until Day 3.
With that in mind, it's also hard to find a great fit as a landing spot for Reed. The New York Giants have plenty of need at wide receiver though, and they ranked 29th in the NFL in punt return average as well as 23rd in kick return average last season. Reed's
Prediction: New York Giants (Round 4, 128th overall)
Jayden Reed NFL Combine Results
Check out more NFL Draft coverage from The Duel:
Jayden Reed Michigan State Stats
Year
School
Games
Receptions
Yards
Avg
Touchdowns
2018
Western Michigan
12
56
797
14.2
8
2020
Michigan State
7
33
407
12.3
3
2021
Michigan State
13
59
1026
17.4
10
2022
Michigan State
11
55
636
11.6
5
Jayden Reed Michigan State Highlights