How to Bet the Super Bowl - 2022 Strategy Guide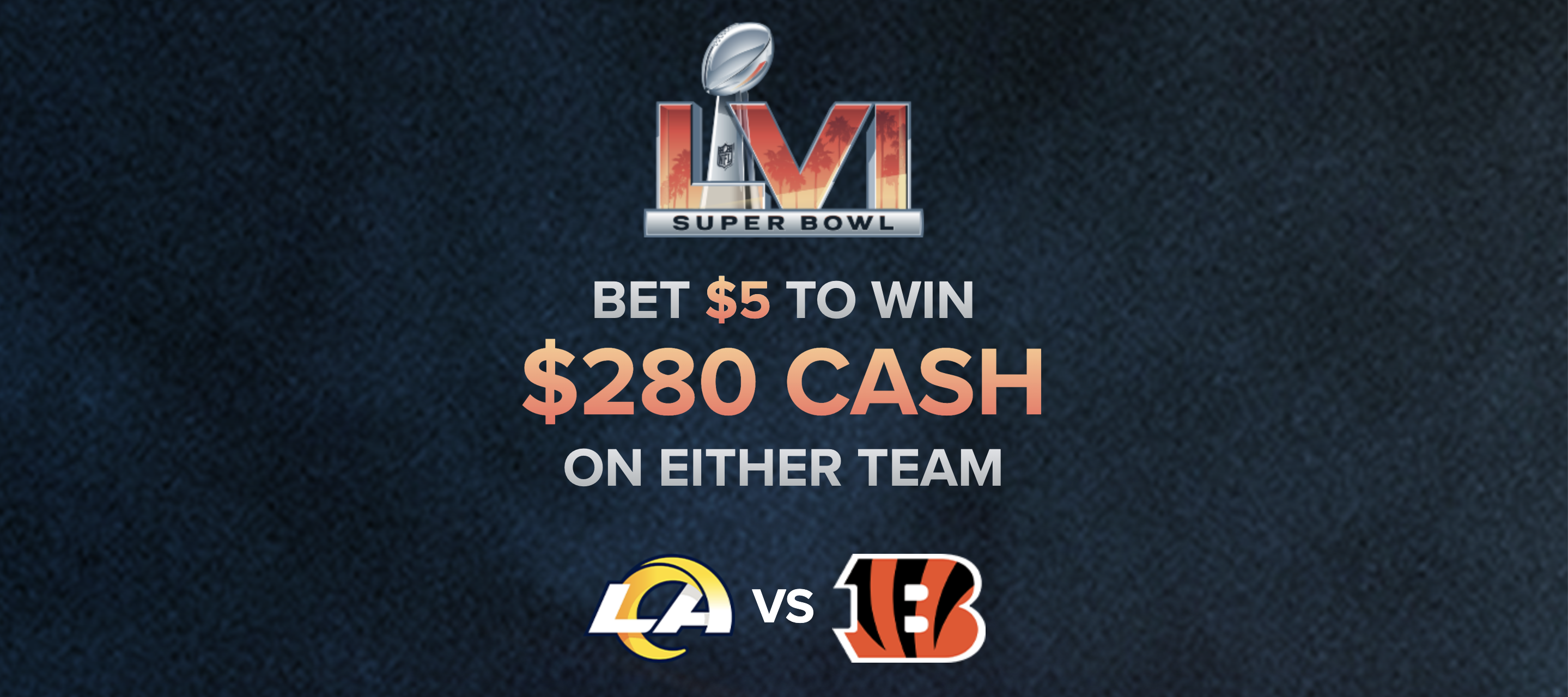 Updated:
How to Bet the Super Bowl Strategy Guide
There are plenty of folks who will discourage people from learning how to bet the Super Bowl. "The more you gamble, the more money you'll lose," they say, casting the sportsbook boss as a supernatural boogeyman. "Las Vegas knows every NFL game's analytics down to the fraction. People don't have a chance!"
But that's not always true. In fact, the sportsbook must play by a separate set of rules that actually put bettors in charge. Quite opposite from what happens at the slot machine, it is often the bookmaker's hand getting forced when figuring out how to bet the Super Bowl.
Except for those who bet against their team as a hex on the opponent, nobody wants to lose a wager on the Greatest Show on Earth. Recreational bettors tend to ignore Super Bowl odds, simply placing bets on the favorite to win the NFL title. As a result, the underdogs often have the best odds to win a Super Bowl. The betting public's rush to pick the favorite does not change either NFL club's chances to win, but it does affect what a Super Bowl betting site can do with its odds. Bookies must balance the "handle," or the amount of money taken on the game, so that the coffers are safe no matter who prevails.
Recreational gambling trends on the favorite or the underdog are discouraged with changing odds. FanDuel's Super Bowl odds on a favorite can "shrink" in potential payoff while the underdog's odds become more profitable than they ought to be.
What sounds like a fantastic opportunity to make money betting on the gala could also sound like Greek—actual Greek and not the "fortune teller" gimmick of so many handicappers who use "Greek" as a nickname. But never fear, FanDuel Sportsbook has you covered. Scroll down for a guide to common NFL gambling markets and the basics of handicapping Super Bowl betting picks against the bookmaker's odds.
How to Bet the Super Bowl's Main Markets
FanDuel's Super Bowl Futures Odds
Super Bowl futures odds on the next Lombardi Trophy winner are offered almost all year long, from an NFL training camp through preseason, and even from week-to-week at online sportsbooks. Futures gambling can feel simple enough—pick out a favorite to win the Super Bowl at 5-to-1 odds or a wild underdog choice at 50-to-1 payoff odds. Either way, you get to live out a season cheering for your pick just as a season ticket holder would.
Remember, though, that "futures" Super Bowl betting odds are about more than a team's chances to win a Super Bowl over another NFL contender. An optimistic gambler might pick the Cincinnati Bengals at 15-to-1 odds, thinking that Joe Burrow can out-fox any opposing quarterback from the NFC. But what if that season, the Bengals run into trouble late in the campaign, and never make it to the Super Bowl? NFL teams must endure a 6-month obstacle course to win long-term Super Bowl bets.
Futures odds are expressed in "moneyline" form, for instance 5-to-1 = (+500). Moneylines are arguably the most basic Super Bowl betting odds at FanDuel Sportsbook, so let's go over how to understand and place bets on the "ML."
How to Bet the Super Bowl Moneylines
Super Bowl moneyline odds promise a % payoff when a gambler's chosen team wins the game straight-up. A favorite's Super Bowl moneyline odds are denoted with a "-" as in the ML (-200). Underdog moneylines are marked with a "+" as in a ML of (+350). Payoff is calculated differently for the betting odds in the favorites and underdogs markets, but always with imaginary Benjamins, or $100 bills, in mind.
For example, (-200) odds mean that for every $200 wagered on a team, FanDuel Sportsbook will pay out $100 if the team wins. (-500) odds reflect $100 payoff on every $500 wagered at the betting book. On the underdog side, moneyline odds represent the amount paid out on won $100 bets if the team surprises. So, (+350) odds equal a $350 payout on $100 wagered, (+1000) odds represent $1000 payout on the same risk, and so on.
Sometimes, a betting site will refuse to put moneyline odds on a heavy favorite or even an underdog. Bettors will risk almost any amount if given the chance to take New England over an expansion team playing its 1st game, or Alabama in a "thrash-for-cash" Homecoming vs. an FCS opponent. Meanwhile, the bookmaker setting the betting lines must worry about the enormous payout owed if the underdogs win, even by forfeit.
Moneylines have always been offered as bets on the Super Bowl … with the exception of a fateful kickoff just 3 years into the event's history.
Namath Nixes the Bookies
The last "Super Bowl Game" for which Las Vegas bookies refused to offer moneylines was probably Super Bowl III, in which the AFL's New York Jets took on the NFL-representative Baltimore Colts, the latter 3-touchdown favorites on the point spread. Some eagerly chose to allow bets on the 7-to-1 Jets, however, figuring that a New York QB named Joe Namath was all wet when he guaranteed the AFL would win.
Green Bay had won a pair of Super Bowls over Kansas City and Oakland, but Las Vegas ignored the Packers' warning that if the rival league continued to improve at the going rate, the NFL could have its hands full. The defending champions (and Joe Namath) were right. Not even Johnny Unitas could save the Colts from a barrage of Namath passes and 60 minutes of fine tackling from the Jets, who won 16-7 in a landmark pro pigskin upset.
How to Bet ATS at FanDuel: NFL Postseason Point Spreads
NFL point-spread betting works by "spotting" points to the underdog and "taking" points away from the favorite prior to kickoff. It's especially handy when trying to gauge what a final score might look like, and serves as a refuge for suspense-loving championship speculators whenever February classics is handicapped as a potential blow-out.
For instance, you might want to try betting on your hometown Los Angeles Rams, but what's the challenge if the Mountain Goats are 2-touchdown favorites? The point spread takes (-14) points away from the Rams and "spots" a plus-number (+14) to a rival. If the Rams win by 15 or more points, those who took their opponents "against the spread" win their bets. If the Rams lose or prevail by 13 or fewer points, those who chose the underdog ATS win theirs. If the Rams win by 14 points, bets on the spread are returned.
Some high-rollers who bet on the Super Bowl say that moneyline odds are the "serious" betting odds on NFL games, but that's not necessarily true. Considering how many high-profile sharks have been obsessed with "the number" over the years, it's extremely clear that the science of NFL point-spread betting can become a lifelong hobby.
ATS bets on the NFL often put the gambler at cross-purposes with a head coach's decision-making may be more inclined to play safe and allow the clock to run unperturbed in the closing moments of a 4th quarter. Meanwhile, those bettors who had taken the club to beat a certain number ATS are yelling at the TV, asking why-oh-why wouldn't the players try to score when the end zone is right there!
Over/Under, or point-total bettors know exactly how that feels.
Super Bowl Over/Under Bets at FanDuel
The Over/Under bet on an NFL game collapses both teams into a single gambling market, and asks speculators to predict how many points will be scored in the game.
Bettors taken in by the "number" (not the payoff odds) can get plenty excited about O/U totals. The Over/Under line is a number with no math symbols, no bells and whistles. Just (45) or (51.5) (with the ".5" fraction blocking any chance of a push) or (65) if a pair of Big 12 teams are planning a high-scoring track meet on a Saturday. Next to the O/U number are the payoff odds—again usually (-110) or approximately 1-to-1 risk and reward bets.
Whether it's Super Bowl betting odds, AFC Championship lines, or any other high-profile scenario, the "Over" market will tend to take too much action prior to a big game. Folks who bet for fun prefer to cheer for a shoot-out and lots of TDs by both teams. But when NFL betting on the O/U with profit in mind, the "Under" can be a sure-fire winner at nearly 1-to-1 payoff odds when 2 defenses are found to be better than advertised.
Bears Beat Patriots…and the O/U Number Too
There are pitfalls to the above tactic, however, such as when the Chicago Bears went into Super Bowl XX as heavy favorites over the Patriots. Chicago owned a destructive defense and liked to control the ball with running back Walter Payton, usually winning playoff games 28-7 or 21-3. The trend caused Over/Under bet lines to sink into the 30s as high-rollers took the low side, but even the public overlooked the potential for mayhem. The Bears' legendary front-7 barely allowed any 1st downs, and Chicago converted on numerous easy scoring chances to blow out the Patriots (and the O/U total) with a 46-10 victory.
Point Spread and Over/Under Outcomes of Super Bowls 50 through 55
Super Bowl 50: Denver Broncos 24, Carolina Panthers 10
The 50th meeting for an American pigskin championship looked to be a battle of legendary quarterbacks, Cam Newton leading the Carolina Panthers against Peyton Manning and the Denver Broncos, with Carolina a (-5) point spread favorite in a Super Bowl with a modest (43.5) Over/Under line. However, the contest turned into a battle of defenses instead. Manning steered the Broncos to a couple of cautious scoring drives, while Newton's game completely fell apart with sacks, fumbles, and pre-snap penalties, leaving a proud Denver defense to bring home a 14-point upset victory.
Super Bowl 51: New England Patriots 34, Atlanta Falcons 28
Las Vegas bookmakers seemed to have gone wrong with a New England Patriots-favoring point spread in early 2017, as Kyle Shanahan's underdog Falcons roared out to a nice 3-quarter lead. But the Patriots, of course, were led by a QB who stands among the great 4th-quarter heroes of a generation. Tom Brady led the Patriots to an electrifying last-minute comeback win and another dynastic NFL championship, all while helping to out-score a (relatively-high) Super Bowl O/U line of (57) total points.
Super Bowl 52: Philadelphia Eagles 41, New England Patriots 33
New England suffered a rare Super Bowl bummer in 2017, as (-4) favorite New England lost in a shoot-out to Nick Foles and the Philadelphia Eagles following a costly Brady fumble in the final frame. How strange to think that at the time, both Philly QBs - Nick Foles and Carson Wentz - were considered top starters in the NFL. As of the tail end of the 2020-21 season, each is playing a backup role.
Super Bowl 53: New England Patriots 13, L.A. Rams 3
Speculators who thought they had spotted a "trend" in O/U point-total betting outcomes at the Super Bowl were quickly corrected in 2019, as a pregame Over/Under total of (57.5) over-shot its forecast by more than 40 points. L.A. and New England engaged in a good old-fashioned defensive struggle to determine a Lombardi Trophy winner. Patriots head coach Bill Belichick cooked up a gap-shooting "Jet" defense that frustrated QB Jared Goff and the Mountain Goats for 60 minutes, allowing the Pats to win a final Brady Bunch-dynasty championship despite a sub-par night for Tom Terrific.
Super Bowl 54: Kansas City Chiefs 31, San Francisco 49ers 20
Kansas City's defense helped Pat Mahomes take over yet another postseason game in the 4th quarter following San Fran's bold statement through 45:00. Celebrities left the Super Bowl knowing that the Chiefs offense was the best unit on the field...it just took all 4 quarters to prove it. How did the contest turn out for Sin City, where the real battles are won and lost? San Francisco spent at least a week prior to Super Bowl 54 as a "sexy" field-goal underdog on the point spread, but many bookmakers held stubbornly to a line of KC (-2), realizing that Kansas City's QB was the best on the planet, while San Fran's signal-caller Jimmy Garoppolo was still working to carve out a niche in the league.
Super Bowl 55: Tampa Bay Buccaneers 31, Kansas City Chiefs 9
Optimistic betting action on the Kansas City Chiefs turned into halftime blues as Tom Brady out-gunned an injured Patrick Mahomes. Las Vegas was as mistaken in setting Over/Under lines in the 50s as it was in handicapping a tight point spread, and the 2nd unexpectedly quiet Super Bowl in 2 seasons produced an easy win on the Under.
How to Bet the Super Bowl's Prop Odds
FanDuel Sportsbook prop bets on NFL kickoffs consist of multiple-choice or yes-no betting questions posed by the bookmaker. Benchmarks are often used such as "will Pat Mahomes pass for over 300 yards in the Super Bowl?" Other prop bet odds can be as simple as asking whether an athlete will start for his team and/or score points in a title tilt.
Super Bowl prop betting has carved out a tradition all its own. Prop bet speculators put wagers on odds for how the coin-toss will play out, what a head coach will wear, what color Gatorade will show up on the sidelines, how long a celebrity's rendition of the national anthem will last, and even on weird things that occur during the game (what a concept!) such as betting "the odds or evens" on a final point tally.
There are prop betting odds on Super Bowl advertising too. Budweiser must be ice-cold toward sports gambling these days, or they'd put the Bud Bowl back on TV—there were years in which Bud Bowl odds almost drew more live-action than the battle for a Lombardi Trophy. Watch this space for more on Super Bowl prop bets—the topic is boundless!
Live Betting on Super Bowl Sunday
FanDuel's live betting odds are offered to gamblers while an event is taking place. As you might imagine, a lot of sportsbooks are happy to offer "deluxe" in-play wagering on the Super Bowl, including odds on 100s of updated potential outcomes.
Live betting comes with its disadvantages, such as not always being able to "grab" a bet slip prior to the rapid-fire odds changing once again. But there are advantages too, such as being able to find nice payoff odds on a leading underdog as the gambling public expects the favorite to come back in the 2nd half. Some useful tips for live betting FanDuel Sportsbook NFL odds include placing bets during quarter breaks and time-outs (when the odds are less likely to change) and studying each team's tendencies when leading or trailing in games. Don't wait too long to place those bets though—the book may remove odds on late-game outcomes once an NFL contest is in the bag.
Super Bowl Betting Advanced Tips & Tactics
Congratulations, you've made it through Super Bowl betting 101! But there's a lot more to gambling on the biggest pigskin game of the year than just understanding the odds.
Browse further on our blog for a crash course in researching, handicapping, and finding the best odds.
Or are you already primed to place that winning bet on the upcoming Super Bowl? Sign up at FanDuel Sportsbook and get in on the action.
Super Bowl Betting and Daily Fantasy FAQ
When Can I Bet on the Next Team to Win a Lombardi Trophy?
FanDuel's "futures" odds on the next NFL season are available as soon as a league champion is crowned in February, and often sooner! Visit FanDuel Sportsbook at any time of year to find betting odds on the next pro football championship.
What are the Most Popular Super Bowl Bets?
Casual fans like to place small bets on the big game every February. Believe it or not, so many recreational bettors place NFL wagers over the winter that even high-rollers can become unable to hold sway over the sportsbook odds. Gamblers who don't follow The Shield (or the betting odds) on a weekly basis are more likely to pick postseason favorites-to-win at any odds offered, thinning lines on favored NFL teams.
Recreational "Over/Under" picks are also more likely to be wagered on the "Over," as occasional viewers prefer to cheer for both teams to score points. If an NFL title game's Over/Under line is found to be rising by only a point or 2 as the kickoff nears, chances are good that it's part-time fans and sports-bar revelers driving up the O/U number as they bet.
What Does the Point Spread's Number Mean?
An NFL point spread bet is displayed with a "minus" symbol next to a whole number or halved fraction, such as (-4) or (-4.5). Gamblers picking the favorite "against the spread" must hope that the team wins by more than 4 points, as a thinner victory or a straight-up loss loses the bet. An underdog's point spread is displayed with a "+" symbol, indicating the number of points "spotted" to the team. When betting, underdog point-spread gamblers are hoping that the team will "cover" by winning, or by losing by any margin smaller than the spread. If the underdog's point spread is (+6) and the club loses by 5, bettors still win the wager.
If a game finishes with the favorites winning by the exact margin predicted by the spread, the resulting "push" outcome returns all wagers to betting clients.
How Do Fantasy Tactics Change in the NFL Postseason?
Daily Fantasy GMs at FanDuel can flourish by drafting NFL superstars on game day during the regular season, and even during the Wild Card and Divisional playoff rounds as double-digit teams look to mount a postseason run to the title tilt.
But as the National Football League's field of teams narrows to 4, and finally just 2 teams, DFS competitors must start to analyze role-playing rushers, receivers, and returners. Occasionally, a Fantasy GM will even strike gold on a backup QB who assumes the helm for an NFC or AFC championship team that loses its starter to injury. Teams that contend for NFL titles may be more talented than others, but there aren't enough skill players on a gridiron in a single game to complete a DFS roster with Hall-of-Fame athletes.
How Many Prop Bets Are Available on the Super Bowl?
As many as you can count! In addition to standard prop bets on 1st and 2nd half-point scoring, exact final-score predictions, and player performances, Super Bowls are known to inspire "wacky" prop odds from bookmakers on everything but the action itself.
Speculators can find proposition betting odds on the length of the pregame national anthem, the calls announcers make during the games, and even the color of Gatorade poured on a victorious head coach. There's something for everyone in SB prop bets!
Bet $5 to win $280 on either team to win Super Bowl 56!