Fantasy Baseball Rankings: Top 100 Players for the 2023 MLB Season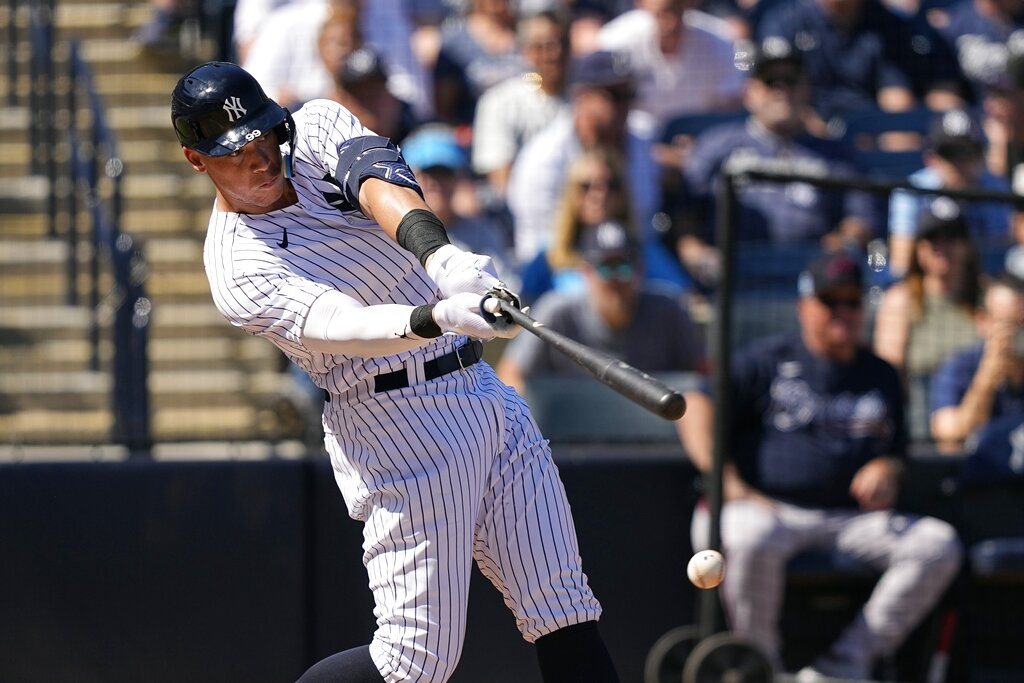 Updated:
With Opening Day for the 2023 MLB season just around the corner, it's time to begin preparing for this year's fantasy baseball drafts.
Here at The Duel, we'll have you covered every step of the way, starting with the first step of draft prep — identifying this year's top fantasy baseball assets.
With that in mind, here are the top 100 fantasy baseball players for the 2023 MLB season. Rankings are based on standard 5x5 category roto leagues.
2023 Fantasy Baseball Top 100 Players
1. Shohei Ohtani, Los Angeles Angels (DH/SP)
2. Trea Turner, Philadelphia Phillies (SS)
3. Ronald Acuna Jr., Atlanta Braves (OF)
4. Aaron Judge, New York Yankees (OF)
5. Juan Soto, San Diego Padres (OF)
6. Jose Ramirez, Cleveland Guardians (3B)
7. Julio Rodriguez, Seattle Mariners (OF)
8. Mookie Betts, Los Angeles Dodgers (OF)
9. Kyle Tucker, Houston Astros (OF)
10. Yordan Alvarez, Houston Astros (OF)
11. Freddie Freeman, Los Angeles Dodgers (1B)
12. Vladimir Guerrero Jr., Toronto Blue Jays (1B)
13. Rafael Devers, Boston Red Sox (3B)
14. Manny Machado, San Diego Padres (3B)
15. Mike Trout, Los Angeles Angels (OF)
16. Bo Bichette, Toronto Blue Jays (SS)
17. Pete Alonso, New York Mets (1B)
18. Francisco Lindor, New York Mets (SS)
19. Nolan Arenado, St. Louis Cardinals (3B)
20. Austin Riley, Atlanta Braves (3B)
21. Fernando Tatis Jr., San Diego Padres (SS)
22. Corbin Burnes, Milwaukee Brewers (SP)
23. Gerrit Cole, New York Yankees (SP)
24. Sandy Alcantara, Miami Marlins (SP)
25. Paul Goldschmidt, St. Louis Cardinals (1B)
26. Bobby Witt Jr., Kansas City Royals (3B, SS)
27. Michael Harris II, Atlanta Braves (OF)
28. Brandon Woodruff, Milwaukee Brewers (SP)
29. Marcus Semien, Texas Rangers (2B)
30. Shane McClanahan, Tampa Bay Rays (SP)
31. Jose Altuve, Houston Astros (2B)
32. Justin Verlander, New York Mets (SP)
33. Aaron Nola, Philadelphia Phillies (SP)
34. Corey Seager, Texas Rangers (SS)
35. Ozzie Albies, Atlanta Braves (2B)
36. Luis Robert, Chicago White Sox (OF)
37. Matt Olson, Atlanta Braves (1B)
38. Dylan Cease, Chicago White Sox (SP)
39. Carlos Rodon, New York Yankees (SP)
40. Oneil Cruz, Pittsburgh Pirates (SS)
41. Zack Wheeler, Philadelphia Phillies (SP)
42. Jacob deGrom, Texas Rangers (SP)
43. Max Scherzer, New York Mets (SP)
44. Randy Arozarena, Tampa Bay Rays (OF)
45. Julio Urias, Los Angeles Dodgers (SP)
46. Cedric Mullins, Baltimore Orioles (OF)
47. Jazz Chisholm Jr., Miami Marlins (2B)
48. Kyle Schwarber, Philadelphia Phillies (OF)
49. Shane Bieber, Cleveland Guardians (SP)
50. Alek Manoah, Toronto Blue Jays (SP)
51. Adolis Garcia, Texas Rangers (OF)
52. Zac Gallen, Arizona Diamondbacks (SP)
53. Spencer Strider, Atlanta Braves (SP)
54. J.T. Realmuto, Philadelphia Phillies (C)
55. Edwin Diaz, New York Mets (RP)
56. Corbin Carroll, Arizona Diamondbacks (OF)
57. Kevin Gausman, Toronto Blue Jays (SP)
58. Max Fried, Atlanta Braves (SP)
59. Emmanuel Clase, Cleveland Guardians (RP)
60. Luis Castillo, Seattle Mariners (SP)
61. Dansby Swanson, Chicago Cubs (SS)
62. Starling Marte, New York Mets (OF)
63. Xander Bogaerts, San Diego Padres (SS)
64. Will Smith, Los Angeles Dodgers (C)
65. Josh Hader, San Diego Padres (RP)
66. Eloy Jimenez, Chicago White Sox (OF)
67. Adley Rutschman, Baltimore Orioles (C)
68. Daulton Varsho, Toronto Blue Jays (C/OF)
69. Teoscar Hernandez, Seattle Mariners (OF)
70. Alex Bregman, Houston Astros (3B)
71. Yu Darvish, San Diego Padres (SP)
72. Gunnar Henderson, Baltimore Orioles (3B)
73. Ryan Pressly, Houston Astros (RP)
74. Devin Williams, Milwaukee Brewers (RP)
75. Joe Musgrove, San Diego Padres (SP)
76. Cristian Javier, Houston Astros (SP)
77. Jordan Romano, Toronto Blue Jays (RP)
78. Framber Valdez, Houston Astros (SP)
79. George Springer, Toronto Blue Jays (OF)
80. Salvador Perez, Kansas City Royals (C)
81. Bryan Reynolds, Pittsburgh Pirates (OF)
82. Wander Franco, Tampa Bay Rays (SS)
83. Robbie Ray, Seattle Mariners (SP)
84. Jose Abreu, Houston Astros (1B)
85. Tim Anderson, Chicago White Sox (SS)
86. Nathaniel Lowe, Texas Rangers (1B)
87. Tyler Glasnow, Tampa Bay Rays (SP)
88. Byron Buxton, Minnesota Twins (OF)
89. Carlos Correa, Minnesota Twins (SS)
90. Jeremy Pena, Houston Astros (SS)
91. Lucas Giolito, Chicago White Sox (SP)
92. Giancarlo Stanton, New York Yankees (OF)
93. Willy Adames, Milwaukee Brewers (SS)
94. George Kirby, Seattle Mariners (SP)
95. Ryan Helsley, St. Louis Cardinals (RP)
96. Seiya Suzuki, Chicago Cubs (OF)
97. Masataka Yoshida, Boston Red Sox (OF)
98. Tyer O'Neill, St. Louis Cardinals (OF)
99. Nestor Cortes Jr., New York Yankees (SP)
100. Logan Gilbert, Seattle Mariners (SP)