FanDuel Casino Review: Alkemor's Tower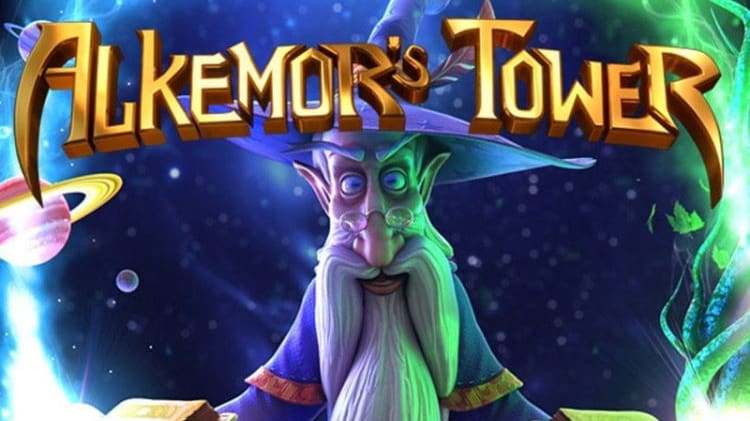 Updated:
Step into the tower inhabited by the wizard Alkemor and prepare to be amazed by his brilliant mastery of spells. Explore the beauty of magical elements: air, fire, earth, and water as they dazzle on the reels and increase your fortune. Betsoft's Alkemor's Tower is quite simply a splendid slot that'll leave you reeling in the thrills of magical enchantments.
This game features the regular 5-reel, 3- row layout and comes with 243 different opportunities to win. With an RTP of 95%, it is considered a medium to high variance slot. Enjoy this game on the go via your mobile device, or at the comfort of a desktop computer.
How to Play Alkemor's Tower Slot
Before you summon Alkemor to do your bidding, set up your wager using the buttons below the reels. The coin size ranges from $0.02 to $1. The bet level is from 1 to 5. You can set this up using the "+" and "-" buttons. The slot helps you utilize all the 243 paylines by multiplying your bet by 30. Betting limits range from $0.6 to $150.
Put the mighty wizard to work by clicking on the "spin" button. You can claim riches when your spin ends with three or more matching symbols on adjacent reels from left to right. If you're certain that the wizard will increase your fortune, go all-in with the "max bet" button.
Alkemor's Tower online slot is so lucrative, that even the base game will reward you with handsome winnings. Every symbol that appears on the reels is used by the wizard for his conjurings. The symbols include Scales, Scrolls, Mushrooms, Bag of Gems, Rings, Coins, the Amethyst, and Alkemor himself. Check out the "View Pays" dropdown menu to see the winnings each symbol pays when you hit at least 3 in a single spin.
Alkemor's Tower Slot Visuals and Sounds
The visuals on this slot are impressive and may be a factor for player retention. The graphics give the allure of a high-budget animation movie. The reels are set against a tower that has two wooden stairs climbing up either side of it, Alkemor can be seen standing next to the reels, chanting incantations when a spin is in motion. When Alkemor delivers a win, the symbols that form the winning line go alive.
The soundtrack of the slot is scary, combining the occasional chuckle of a demon and a woman screaming in the background. The characteristic mythical whirlwind sound is heard when a spin delivers a win, which forms part of the exercise to take a go again.
This slot is officially classified as having a mythical theme, but Betsoft still took the visuals and soundtrack way higher than anyone could have predicted. The end result is a slot that's an absolute delight for teeming lovers of magic.
Alkemor's Tower Online Slot Special Features
Free Spins
This round can offer you between 10, 12, or 15 free spins, depending on the mode and symbols that appear to increase the potency of the magic. The free spins are triggered if you land the spellbook (wilds) symbol on reels 1 and 2. Either of two special symbols peculiar to this round appearing on reel 3 teleports you to a different floor in the tower.
The Celestial Floor: You arrive at this floor when you land the wilds and an ornate jewel on reel 3. This symbol creates a black hole, devours every other symbol, and delivers your win.
The Nature Floor: You reach this floor if Alkemor grants your wish and a vine symbol appears on reel 3. This symbol will grant your reward and cancel all other symbols around it.
Elemental Spells
This round displays the ingenuity of Alkemor's spells and incantations over earth, fire, water, and fire. Trigger this round when you land two spell books on reels 1 and 2, and any of the elemental symbols on reel 3. The win depends on which elemental symbol appears, and if any other appears on reels 4 and 5. If you hit a fire symbol, Alkemor will cast a fire spell, and a huge fireball will appear and wipe off other symbols on the reels. The spellbook on reel 2 and the fire symbol itself will turn into wilds. Your win will also be multiplied by any extra fire symbol on reels 4 and 5.
The rest of the elemental symbols give the same effect. Water symbol spells release a wave of water, air symbol a tornado, and earth symbol, a meteor.
Why Play Alkemor's Tower Online Slot?
For lovers of mythical creatures and events, Alkemor's Tower will cast a spell on you and make you come back for another session. With its HD graphics and engaging soundtrack, this slot will keep you trapped from beginning to end. Enjoy bonuses that only a magical being can bestow upon you on this slot that is surely worth playing.

New FanDuel Casino customers get to play your first day risk-free up to $1000 when you sign up today!