FanDuel Casino Promo: $250k July Daily Draw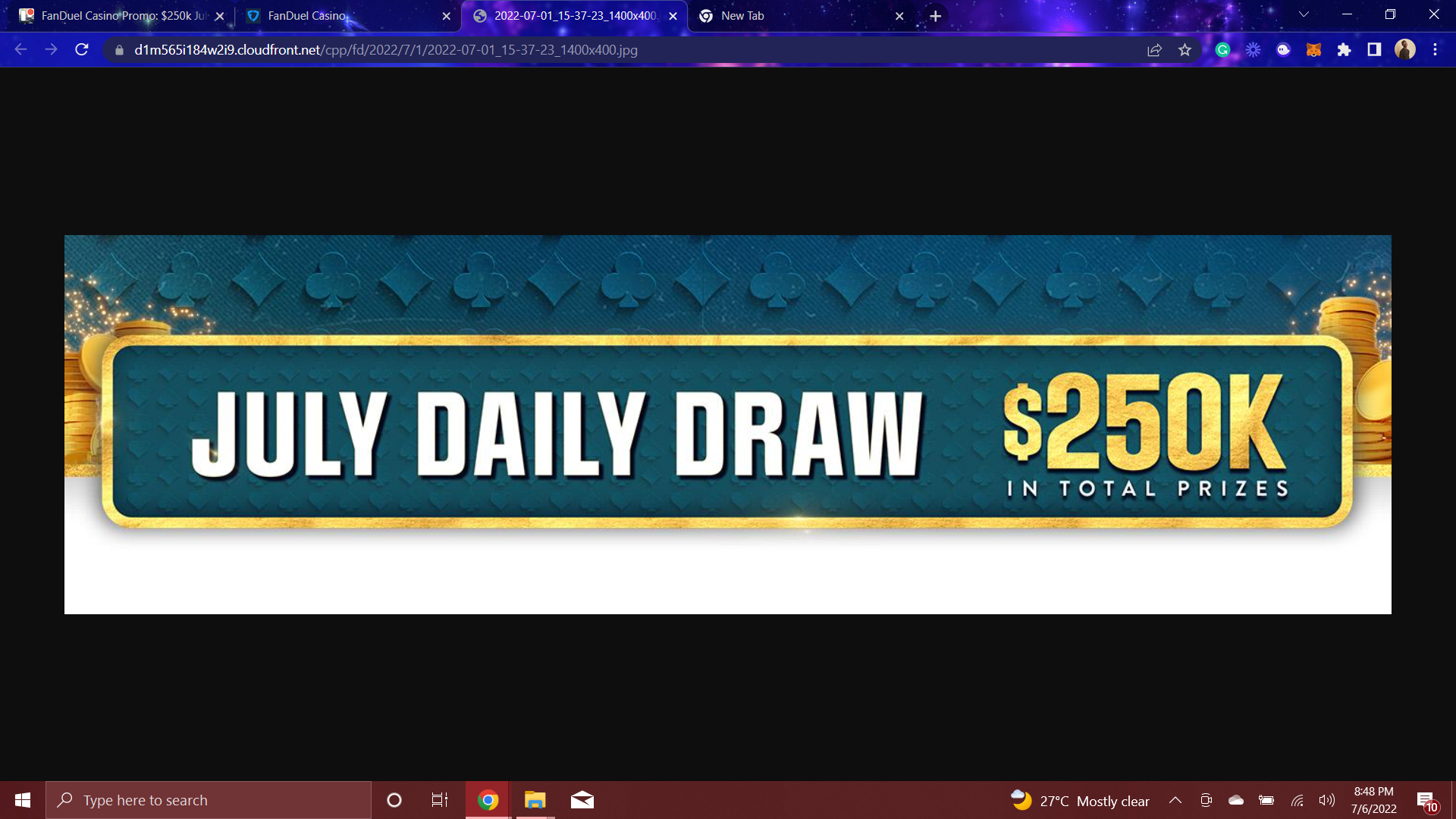 Updated:
While we are still enjoying the festivities of independence, punters also have a lot to look forward to from FanDuel Casino. This month, FanDuel Casino has a lot of freebies for its customers and it's important you don't miss out on any of them. This July, you could stand a chance to join 100 winners everyday in the month to win the cash prize of $250k.
This promo is currently on, so we suggest you quickly opt-in. Before you try your luck, we want you to know what this promo is about and what offer awaits you.
What You Need To Participate
If you are an existing player at FanDuel Casino, you already know there are always giveaways at this casino. However, the good news is that this promo is open to both new and existing players. So if you haven't already joined this online casino, you can still participate in this fantastic FanDuel Casino promo.
Go over to FanDuel Casino and sign up for your gambling account. Also, make sure you verify your account so you can take part in the $250k July Daily Draw. To participate in the promo you must have an active FanDuel Casino account and wager up to $100 on any game. For every $100 you wager, you get an entry to compete for the daily prize.
Each day, 100 winners will be selected from all participants who are active on the site. They will receive:
7/2/2022 - $250
7/3/2022 - $225
7/4/2022 - $200
7/5/2022 - $175
7/6/2022 - $150
7/7/2022 - $125
7/8/2022 - $100
7/9/2022 - $100
7/10/2022 - $250
7/11/2022 - $225
7/12/2022 - $200
7/13/2022 - $175
7/14/2022 - $150
7/15/2022 -$125
7/16/2022 - $100
7/17/2022 - $100
Be One of the Winners of the 250k July Daily Draw Today
The $250k July Daily Draw will be on from 12am on the 2nd of July, 2022 to 11.59pm, 17th of July 2022. So hurry over and opt-in to participate in this FanDuel Casino Promo

Please note: Some FanDuel casino games may not yet be available in your state, or on your preferred app. Please check your iOS/Android app and visit casino.fanduel.com or fanduel.com/casino for announcements about the latest casino games available.