FanDuel Casino – New Games Spotlight: Cashomatic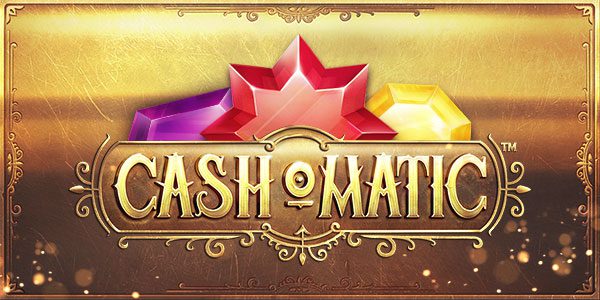 Updated:
If you're looking for something different or unique, you should check out Cashomatic. This real money online slot was launched in 2019 and designed by the popular NetEnt. Cashomatic is not like your everyday slot machine, which you are used to. NetEnt decided to do something different with this slot. If you're reading this, you're probably curious about what makes this slot different. Come along as we dig deeper in our review.
How to Play Cashomatic
The moment you launch Cashomatic, you'll be directed to its 5x4 reel grid. The game offers a potential win with its 96.33% RTP. In addition, players have 1024 ways to win. Its unique features make it a bit different from any other slot. It has a unique avalanche mechanism that is quite interesting and, at the same time, rewarding. If you don't know how slots work, we'll explain how you can start with Cashomatic Slot. If you've signed up with FanDuel, you can launch the game. To begin spinning the reels, you'll need to set your wager amount.
Like most NetEnt slots, you can use the auto spin feature to place your wagers. Once you're done with setting your bet, you can press the spin button. While there's no guarantee you'll win, the 96% RTP gives you a chance to grab decent winnings, and if you're lucky, you might land the 50,000x payout. You can play Cashomatic on your mobile or PC. The game is fully optimized for a mobile experience with the latest HTML5 technology.
Cashomatic Slot Visuals and Sounds
If you're looking for a fanciful slot, know that Cashomatic won't give you that. The game's design is very different from NetEnt's usual style. It, however, does seem like NetEnt intended it to be so. We think they were tilting towards making a classic slot game. So, don't expect to be wowed on your first game, and it won't get any better. However, this game will eventually grow on you, and you'll hardly notice its design.
Cashomatic is fun, and you'll enjoy every minute of this game. Besides, there are other attractions in the game, like the colorful gemstones and the symbols of the regular royal. The game may not be visually appealing, but it makes up for that with its impressive 50,000x payout.
Special Features of Cashomatic Slot
Cashomatic is one of the online slots with unique features. You'll find some very rewarding features, like its multiplier meter and free spins. The game has an array of symbols which include both high and low-paying ones.
Specifically, the royal cards serve as the low-paying symbols in the game. While the yellow, green, purple, and red gemstones offer high payouts. The red gemstone is the highest paying of all the symbols. Let's take a closer look at some of the other unique features of Cashomatic.
Reverse Avalanche
The Avalanche symbols are a unique part of this game. These symbols will rest on your screen when they appear, and other symbols in the game will explode. When this happens, you'll begin to see new symbols trickling down to fill up the reels again. You can then keep matching to win.
Free Spins and Multiplier Feature
One of the rewarding features of Cashomatic is its multipliers. You get a multiplier added to your winnings whenever you land the same symbols on each row. The multipliers come in different levels depending on where you land them on the reels. Here's a breakdown for better understanding:
Level 1 – 1x
Level 2 – 2x
Level 3 – 4x
Level 4 – 10x
Another thing you should know is that there are also free spins with multipliers in this real money slot machine. To trigger the free spins, you have to match the scatters. Each scatter will be collected on the multiplier meter on the left side of the reels. If you make ten matches, you activate the free spins. You'll get an extra free spin with each row with winning symbols. Also, the multiplier will depend on how many scatters you match. For instance:
If you land 10 to 14 scatters, you'll get between 2x to 10x multipliers.
15 to 19 scatters give you 3x to 30x;
20 or more scatters equals 5x to 50x
In other words, the more the scatters, the more the free spins and multipliers.
Is Cashomatic a Good Slot Game?
Now, you see what makes this game so fascinating. We know it's not the graphics or visual effects. Still, it is worth every minute of your time. Anyone who plays Cashomatic won't get bored; the exciting features in this game will keep you glued to your device. So what are you waiting for? If you haven't played this Cashomatic online slot machine, you should head to FanDuel casino.
Please note: Some FanDuel casino games may not yet be available in your state or on your preferred app. Please check your iOS/Android app and visit casino.fanduel.com or fanduel.com/casino for announcements about the latest casino games available.