FanDuel Breeders' Cup Mile Contenders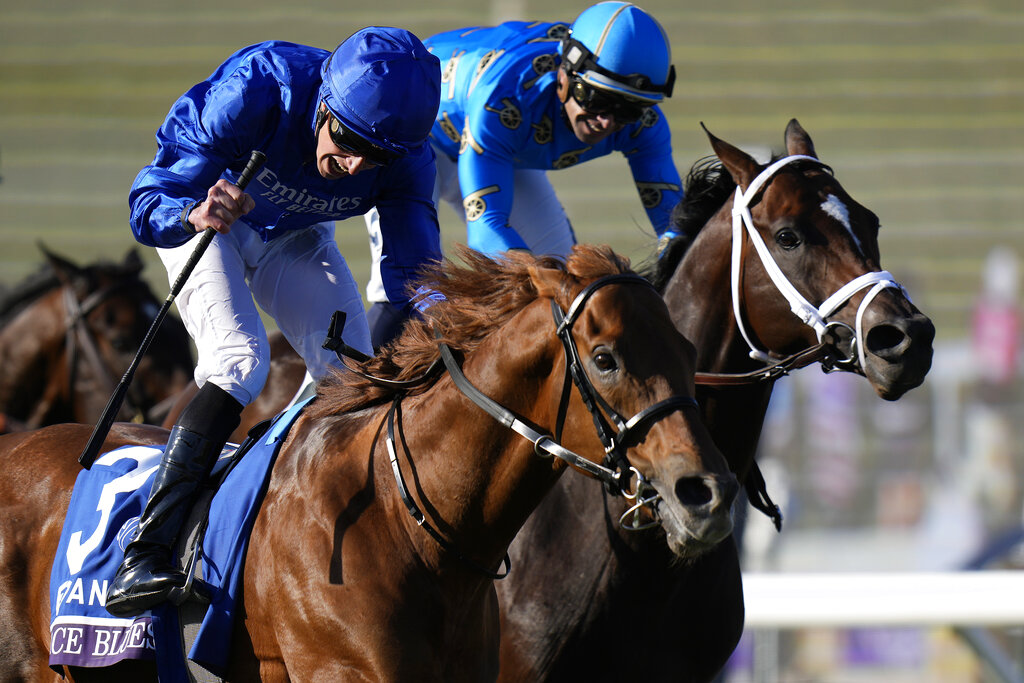 Updated:
One of the year's most exciting weekends in horse racing is nearly here with the 2022 Breeders' Cup set to take place at Keeneland on Nov. 4th and 5th.
Part of the weekend's events includes the FanDuel Breeders' Cup Mile, which is scheduled for 3:10 p.m. ET on Saturday. This mile-long race will be run on turf and is for horses that are at least 3 years old. It also includes a purse of $2 million.
The contenders were announced on Wednesday, so here's everything you need to know about the field before wagering on the Breeders' Cup Mile on FanDuel Racing.
FanDuel Breeders' Cup Mile Contenders
1.

Annapolis

Jockey: TBD
Trainer: Todd A. Pletcher
Breeder: Bass Stables, LLC
Owner: Bass Racing, LLC (Perry R. Bass II & Ramona S. Bass)

Annapolis enters this race on a roll after finishing 1st or 2nd in her seven most recent races, including a 1st-place finish in the Coolmore Turf Mile at Keeneland on Oct. 8 in her last race.
2.

Bayside Boy

Jockey: TBD
Trainer: Roger Varian
Breeder: Ballylinch Stud
Owner: Teme Valley (Richard Ryan) and Ballylinch Stud (John O'Connor)

Bayside Boy earned a place in this event by winning the Group 1 Queen Elizabeth II Stakes on Oct. 15 at Ascot Racecourse by 1 ¼ lengths in the one-mile turf race.
3.

Beyond Brilliant

Jockey: TBD
Trainer: John A. Shirreffs
Breeder: Fred W. Hertrich III, John D. Fielding & Robert L. Tribbett
Owner: CRK Stable, LLC (Lee Searing)

Beyond Brilliant has had an up-and-down year so far, winning two of his four races but finishing 4th and 6th in the other two. Which version will show up at Keeneland?
4.

Domestic Spending

Jockey: TBD
Trainer: Chad C. Brown
Breeder: Rabbah Bloodstock Limited
Owner: Klaravich Stables, Inc. (Seth Klarman)

Domestic Spending has yet to race in 2022 due an inflamed foreleg but posted strong results in 2021 and 2020, finishing top-3 in all eight races and winning six. Can the surprise entrant pick up where he left off?
5.

Dreamloper

Jockey: TBD
Trainer: Ed Walker
Breeder: Mrs. Olivia Hoare
Owner: Mrs. Olivia Hoare

Dreamloper has hit her stride in 2022, winning three of five races so far. She'll look to carry that momentum into the Breeders' Cup.
6.

Ivar

Jockey: TBD
Trainer: Paulo H. Lobo
Breeder: Stud Rio Dois Irmaos
Owner: Bonne Chance Farm (Alberto Figueiredo) & Stud RDI (Paulo Fernando Carvalho de Oliveira)

Ivar is coming off a 2nd-place finish at the Coolmore Turf Mile at Keeneland earlier in October. He's had an impressive 2022 so far with a pair of 2nd-place finishes and a 1st-place finish in his three races.
7.

Kinross

Jockey: TBD
Trainer: Ralph M. Beckett
Breeder: Lawn Stud
Owner: Marcstown Thoroughbreds (Marc Chan)

Kinross is an accomplished racehorse with eight wins under his belt in 21 starts, including four straight victories leading up to this competition.
8.

Malavath

Jockey: TBD
Trainer: Francis-Henri Graffard
Breeder: Tally Ho Stud
Owner: Everest Racing (Ghislain Bozo), Barbara M. Keller and David Redvers

Malavath is searching for her second win of 2022 but her first since Prix Imprudence in April, as she's now gone four straight matches without a win.
9.

Modern Games

Jockey: TBD
Trainer: Charlie Appleby
Breeder: Godolphin
Owner: Godolphin, LLC - Lessee (Mohammed Al Maktoum, et al.)

Modern Games has had a highly successful year thus far, finishing top-3 in five of his six races while winning two. He'll try to keep it up at Keeneland.
10.

Order of Australia

Jockey: TBD
Trainer: Aidan P. O'Brien
Breeder: Whisperview Trading Ltd
Owner: Derrick Smith, Mrs. John Magnier, Michael Tabor and Mrs. A.M. O'Brien

Order of Australia came in third at Keeneland a couple of weeks ago — a marked improvement over his 12th-place finish at the same event in 2021. He'll try to prove it was for real and not a fluke.
11.

Pogo

Jockey: TBD
Trainer: Charles Hills
Breeder: Thomas Foy
Owner: Gary and Linnet Woodward

Pogo started the year slowly but has come on strong over the last few months, winning three of his last six events. That could make him a surprise contender at this event.
12.

Regal Glory

Jockey: TBD
Trainer: Chad C. Brown
Breeder: Paul P Pompa
Owner: Peter M. Brant

There's been plenty of glory for Regal Glory in 2022, as she's either won or finished runner-up in all five of her events this year.
13.

Saffron Beach

Jockey: TBD
Trainer: Jane Chapple-Hyam
Breeder: China Horse Club International Ltd
Owner: Mrs. Ben Sangster, James Wigan and Ollie Sangster

Saffron Beach has some work to do after finishing 8th in her latest event. She copped two wins earlier in the year, however, so don't be surprised if she bounces back.
14.

Smooth Like Strait


Jockey: TBD
Trainer: Michael W. McCarthy
Breeder: Cannon Thoroughbreds, LLC
Owner: Cannon Thoroughbreds LLC (Michael Cannon)

Smooth Like Strait is searching for his first win in nearly a year and a half, as he hasn't won an event since May 31, 2021. He's finished 2nd or 3rd in all seven of his races since then, however, so perhaps he finally gets over the hump here.

Game odds refresh periodically and are subject to change.