Celestial King - FanDuel Casino Review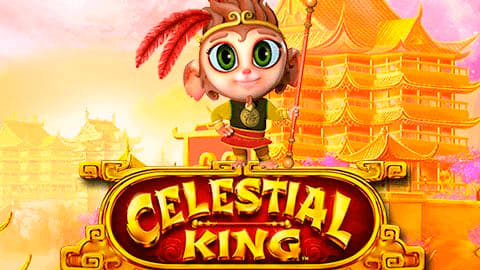 Updated:
Celestial King brings you the experience of coming before an immortal and affluent Monkey God-King in heaven so far away, yet so close - on your mobile devices and computer screens. All your wishes may come true as you approach this Celestial King, who is more than ready to make the winnings rain on visitors to his online Casino palace.
The whole experience is made more delightful as you soak in the beautiful scenery of a heavily gold-laden ancient oriental heaven complete with pagodas, cherry blossom trees, and citadels.
How To Play Celestial King
The Celestial King slot has a five-reel slot located in the bottom half of the screen so that during the bonus features, there is space for extended reels to increase winnings massively. The game is built on the structure of a fixed 3x5 game matrix that is obtainable in physical casinos.
The game has as many as 30 payline symbols shown across the 5 reels, with those of highest value being that of the Celestial King, which is wild enough to deliver as much as 250x to 1250x your line bets; plus these particular symbols can line up to replace other surrounding symbols.
There are other symbols with a high value attached to them like the Lucky pigs, Temple Priestesses, Golden Flowers, and flowers of the Lotus tree, which will give returns of 50 to 90x your line bet. You will also find some lower paylines with these card values: J, Q, K, and A, which only offer 20- 30x the line bet offered on them.
These paylines are fixed in place, meaning that you will have to bet on all of them to win. Winning also begins from the most leftward reels. To stake on the game, you have to start with a minimum of £0.50 and a maximum of £80 for each spin. The game also has a designated RTP of 96%, which confers a constant advantage of 4% to the house.
Celestial King Visuals and Sounds
As described earlier, the slot presents a breathtaking depiction of an oriental and gold-filled paradise where the benevolent Monkey king reigns supreme, standing upon his pagoda roof and beckoning on players to get in and reach for a taste of the golden. The skies have a lovely pinkish hue, and the bottom of the game screen is serenaded with gently moving misty clouds.
The game's background music creates a triumphant ambience that assures you of a casino experience bordering on the divine.
Special Features
The unique features obtainable under in Celestial King include:
Jackpot Bonus Win
To stand a chance to win the grand jackpot of about 1250x the line-bet, you would need to have staked at least 4 credits, only then can you trigger the possibility of landing 5 celestial King wild symbols and win big.
Free Spins
The dragon in Oriental culture means good luck. In the Celestial King slot, they bring the pleasant fortune of free spins when three or more of them are lined up. The way it works is that you are dealt 8 free spins along with an instant bonus ranging from 250x to 750x the initial stake depending on the number of dragon symbols you were able to land at once.
In reality, it is possible to get even more free spins. This is achieved by replicating the conditions that produced the free spins in the first place. In this case, you would need to line up another set of three or more dragon symbols in one of the free spins. In theory, it is also possible to rack up an infinite number of free spins, but that is curtailed by introducing a freespin cap by casino giants like Bally. This free spin cap only allows for one extra set of free spins in Celestial King.
Respins
The respin feature involves a free three-spin chance that is renewed each time a scatter symbol appears. You also win more from this feature as each scatter symbol that shows up comes with a random value of credit, which will be added to your overall winnings. This credit value may lie between 1 and 50 credits.
Conclusion
The Celestial King casino slots offer such a beautiful gaming experience that, when coupled with its potential for hefty jackpot winnings and bonuses, will keep you engaged and handsomely rewarded.
Bally really outdid themselves here as they have delivered a potential player's favorite in Celestial King to us all.
New FanDuel Casino customers get to play your first day risk-free up to $200 when you sign up today!