Buffalo Bills Injury Update: Micah Hyde Out, Gabe Davis Questionable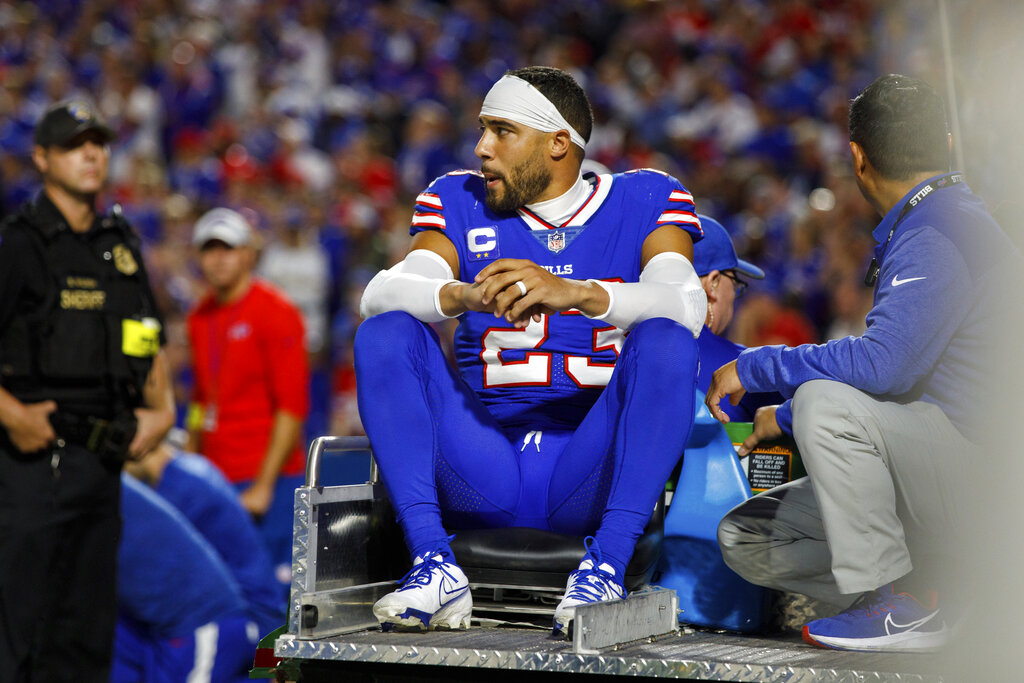 Updated:
The Buffalo Bills will be down several key defensive pieces this Sunday against the Miami Dolphins and No. 2 wideout Gabe Davis is likely to be questionable with an ankle injury.
Friday morning, Bills head coach Sean McDermott told reporters that Micah Hyde, Jordan Phillips and Dane Jackson are out for the matchup against Miami.
Pro Football Doc, Dr. David Chao, breaks down Hyde's neck injury below:
Hyde will not return this year, as Buffalo placed him on the IR on Saturday and ruled him out for the rest of the season.
Ed Oliver missed Week 2 with an ankle injury and will miss Week 3 as well.
Davis – who missed Week 2 with an ankle injury he picked up in practice – does not look ready to be fully effective, according to our panel of doctors.
He had 4 catches for 88 yards and a touchdown in Week 1 against the Los Angeles Rams but did not play during Week 2.
Pro Football Doc, Dr. David Chao, details the latest status on Davis here:
Dawson Knox has been limited in practice with a foot injury, but the Pro Football Docs expect him to play this week.
Bills vs Dolphins Week 3 Odds
Even with the injuries, Buffalo is still favored by 5.5 points in Miami this weekend on FanDuel Sportsbook's NFL odds. The game is also tied for the highest total on the Week 3 slate with an over/under of 52.5 points.
For this week's injury-based picks, sign up for SIC Picks here.
Sports Injury Central is the home of Pro Football Doc – the FanDuel Official Injury Expert – and a leading panel of former team physicians from the NFL, NBA, and MLB. The team analyzes injuries to give fans an edge with their wagering and fantasy sports activities. For Sports Injury Central's best bets based on SIC Score algorithms and Injury analysis check out our new feature: SIC Picks.