Breeders' Cup Filly & Mare Sprint 2022 Win Contenders and Criteria at FanDuel Racing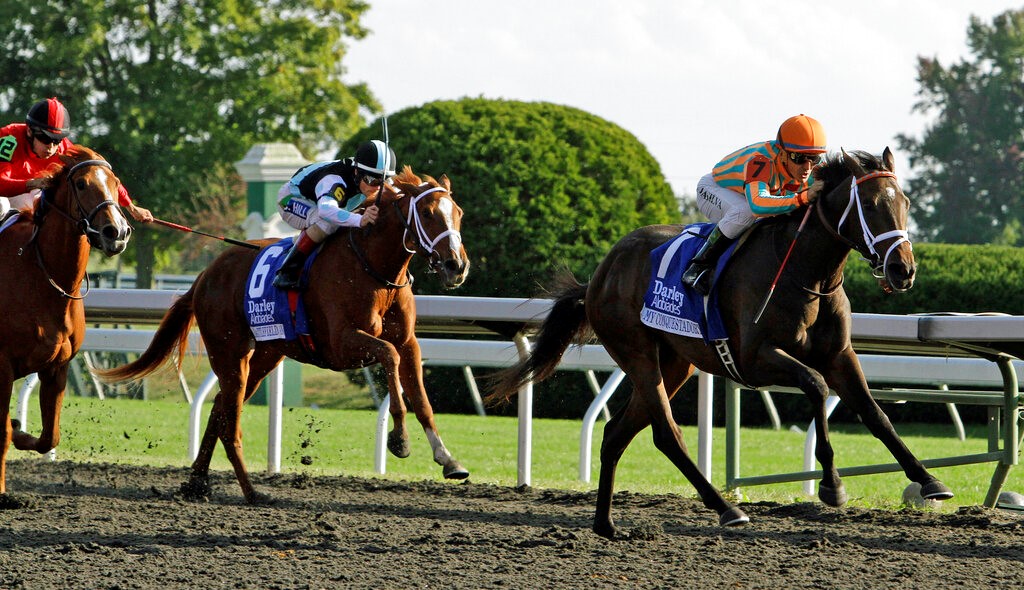 Updated:
One of the year's biggest weekends in horse racing is just days away with the 2022 Breeders' Cup bringing 14 races across two days on Nov. 4-5.
Following Friday's opening day with five Breeders' Cup races, Saturday's biggest day includes nine Breeders' Cup races starting with the Breeders' Cup Filly & Mare Sprint in Race 4. Post time is 9:50a.m. ET. The 7 furlong race on the dirt has a purse of $1 million - the richest race in North America for female sprinters.
The BC Filly & Mare Sprint challengers and contenders were announced last week, and on Oct. 31 opening odds and post positions were set . Here's additional insight from FanDuel Racing our contacts at Horse Racing Nation with everything you need to know about the leading contenders and field before wagering on the Breeders' Cup Juvenile on FanDuel Racing.
Breeders' Cup Filly & Mare Sprit Contenders and Criteria
Unlike last year's short field, we'll get a competitive, full field of filly and mare sprinters. The pace projects to come in slightly faster that par but there will be plenty of pace pressure. The short stretch does work to the favor of pressers and up-close stalkers especially when the pace is reasonable. Some of the top choices here look vulnerable so we may get to kick off the Saturday Breeders' Cup card with bountiful pay out.
Top Win Contenders
1. Kamari
Kamari is a pace presser trained by Wesley Ward. She won on this surface going 7 panels in the Grade 1 Madison in April, 2021. Kamari is a much faster horse now with superior BRIS speed figures her last two races with stronger ratings the last half of the races. Her only really knock is exiting New York preps but frankly they were the best preps this year. She'll sit a very comfortable pressing trip here 2 to 3 lengths off the pace and will hit that final furlong with plenty of energy in reserve.
2. Slammed
Slammed is another pace presser with top value. This filly crushed rivals last out in the most productive prep for this race - the Grade 2 TCA. She did so with perfect balance especially for going wire to wire. Slammed won at 6.5 and 8 furlongs before so the added ground will not pose a problem. This is just her 3rd start since February and she owns the most ideal foundation of all runners here.
3. Caramel Smile
Caramel Smile is an off the pace runner with top value as well. The Bill Mott-trained filly owns the best form cycle progression pattern over any other filly in the race showing improvement in each of her last 3 starts culminating into a 2nd place finish behind Goodnight Olive in the Grade 1 Ballerina. The layoff isn't a positive but her stellar record at this distance and on this surface is. She owns tremendous balance and she projects to leverage that balance via an ideal stalking trip while bringing
abundant stamina to the finish of the race.
Top longshots includes Bell's the One and Wicket Halo.
Filly & Mare Criteria
• Demand a final prep to have taken place in the past 60 days. If 60+ days layoff, demand sharp works, top class and proven success off similar layoffs
• Prefer contenders and long shots exiting the TCA Stakes
• Require that BOTH of the final two preps were rated with a BRIS Class Rating of 118+
• Demand that a win contender shows the highest figures in the 2nd Call Pace and final Speed Rating
• Demand a BRIS Late Pace figure of 90+ in one of the preps
• Avoid fillies/mares that just posted a new lifetime top in the final prep
• Contenders exiting New York-based Sprint preps have been over bet and have repeatedly disappointed - discount them
• Prefer fillies/mares that have had 4 or fewer races since a layoff
• Avoid 3 year-old fillies as they have disappointed often at low odds
• Prefer fillies/mares with positive form cycles, raced in past 30 days and an excellent sprint distance win record
• Must be ranked in the top 3rd of the field via the Super Screener Reserve Energy Index