3 Players That Won't Be Returning to the Padres Next Season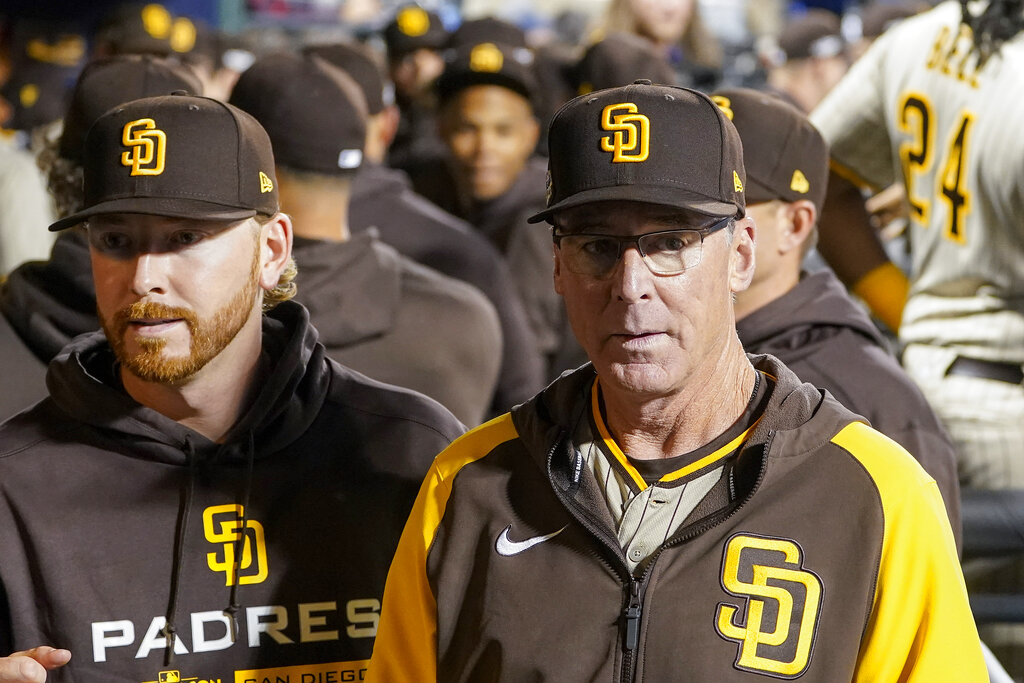 Updated:
The San Diego Padres were bounced from the playoffs on Sunday after losing the NLCS to the Philadelphia Phillies, falling just short of what would've been their first World Series appearance since 1998.
Now, it's time for San Diego to turn the page to the offseason and start tweaking its roster to be even better in 2023. While the Padres have a talented team that will remain mostly intact next year, several players are expected to leave during free agency or be traded away.
Here are three players that likely won't be returning to San Diego next year.
Padres Roster Rumors
1.

Josh Bell, 1B

Bell was part of the blockbuster trade that brought Juan Soto to the Padres in early August. At the time he was one of the most coveted hitters on the block, as he was slashing .301/.384/.493 with the Washington Nationals prior to the trade. He immediately fell off a cliff after arriving in San Diego, however, batting just .192/.316/.271 with his new team. Even so, the former All-Star still finished with solid overall numbers and will be a free agent this winter. Given that he's only 30 and is represented by Scott Boras, he'll likely be seeking a significant multi-year contract. The Padres may opt to let him walk if his price becomes too expensive, especially after his poor finish to the 2022 campaign. First base is one of the easier positions on the diamond to fill, so San Diego's money could be better spent elsewhere.
2.

Wil Myers, RF

Big things were expected of Myers when San Diego traded for the 2013 AL Rookie of the Year after the 2014 season, but he never quite panned out for the Padres. While he had his moments and even made an All-Star team, he was often hurt and failed to provide elite production at the plate while struggling defensively. That was especially true in 2022, when Myers played just 77 games and posted the second-lowest OPS (.713) of his career. He has a $20 million team option for 2023, but San Diego appears likely to decline that and pay the $1 million buyout instead. Expect the Padres to let him walk in free agency after failing to get their money's worth on his six-year, $83 million contract that just expired.
3.

Sean Manaea, SP

San Diego made a splash right before Opening Day by trading for Manaea from the Oakland A's. He was expected to help stabilize the rotation after leading the American League in starts in 2021 while posting a 3.91 ERA, but instead he ended up being the weak link in what was an otherwise stellar starting staff. His ERA jumped more than a full run to 4.96 -- the highest mark of his career. His 4.53 FIP was also a personal-worst, suggesting his poor performance wasn't a fluke. The former first-round draft pick is on the wrong side of 30 now and will be a free agent this offseason, so it's hard to see the Padres bringing him back. They already have plenty of starting pitching with Yu Darvish, Blake Snell, Joe Musgrove and MacKenzie Gore, so they'll likely roll the dice on a cheaper innings-eater or homegrown option to fill out the rotation.