3 Card Stud - FanDuel Casino Review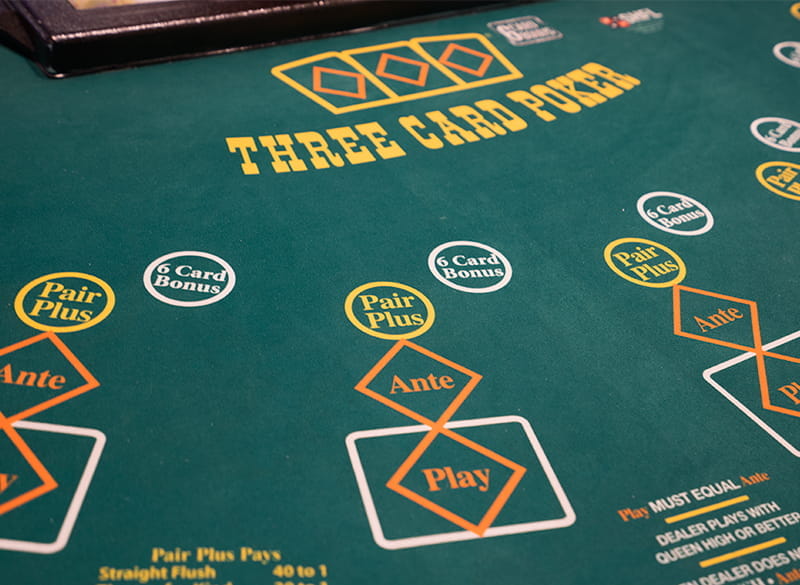 Updated:
If you love playing poker at a brick-and-mortar casino, then you need to see this Three Card Poker game from IGT. The poker game is designed for different players all around the world and the best part is that you don't need to leave the comfort of your home to play this game.
In our 3 Card Stud review, we will be looking at what this game offers and why you should play it. Keep reading to learn about the payouts and bonuses that come with the game.
How to Play 3 Card Stud
The Three Card Poker game from IGT is similar to the classic card games you play in your traditional casino but with a touch of IGT's experience. You can't get bored playing this poker game as IGT has put everything in place for a fun experience. The game is fully optimized and you can play it conveniently on your desktop or mobile device. The 3 Card Stud follows the rules of poker games. If you are already familiar with playing poker, you won't find it difficult to find your way around this game.
It also has a free version that allows you to practice before playing with real money. This IGT poker game comes with high returns and players stand a chance to win big when they stake on this game.
3 Card Stud Visuals and Sounds
The poker game comes in an attractive layout and theme. IGT is known to develop games with high-quality graphics and effects. The layout of the game is covered with a green table that displays everything you will be working with. You will see the dealer's chips right in front of you on the green table. The design of this game is modern and although it has a classic look, it is still very appealing. The 3 Card Stud game does not have any clutter that will normally confuse players. Instead, it gives you real poker experience and very clear graphics.
Special Features of 3 Card Stud
If you play this Three Card Poker game, you won't miss visiting the casino. This game like we already mentioned follows the same rules of poker in the traditional casinos. When it's time to play and fold, you can choose how this happens depending on the hand you deal. The chips on the table could be yours if you apply the right winning strategy in the game. The 3 Card Poker game by IGT has not been manipulated, so you can be sure that you will win from this game if you know how to play the game.
Everything depends on the player, your luck, and the hand you choose. The game also comes with extra special features to give players a more interesting experience and there are three different ways you can play the 3 Card Stud.
Bonus Features
When playing this poker game from IGT, you can do this in three different ways. You can either play with the Ante Bet, Pair Plus Bets, or use the two.
Ante Bet
One of the perks of using the Ante bet is that no matter the outcome, you will be awarded a bonus for a strong hand. This can be in three ways:
Straight: One to One
Three of a Kind: Four to One
Straight Flush: Five to One
Pair Plus
The results you get from placing this bet will be calculated based on the hand dealt and will not be affected by the dealer. You can lose the pair plus bet if you don't hold a pair. Even after folding, you still get a bonus.
Is 3 Card Stud a Good Online Casino Game?
If you have not played this poker game, we suggest you take a look at it now. It is fun and you will enjoy every moment spent on IGT's Three Card Poker game. The modern design complements the entire outlook of the game and takes it beyond the classic poker feel. The poker game offers a single deck and 52 card gameplay with up to three different ways to play the game.
If you want to enjoy the rewards that come with this game, we suggest you learn what it takes to win at poker. Get familiar with the rules and how you can win at this game. The odds are in your favor when you play the 3 Card Stud from IGT. Your winnings will depend on your gameplay and luck. We suggest you play this exciting online casino game at FanDuel today.
New FanDuel Casino customers get to play your first day risk-free up to $1000 when you sign up today!