1. Choose a contest
There are tons of different contest types and game styles to choose from in every sport.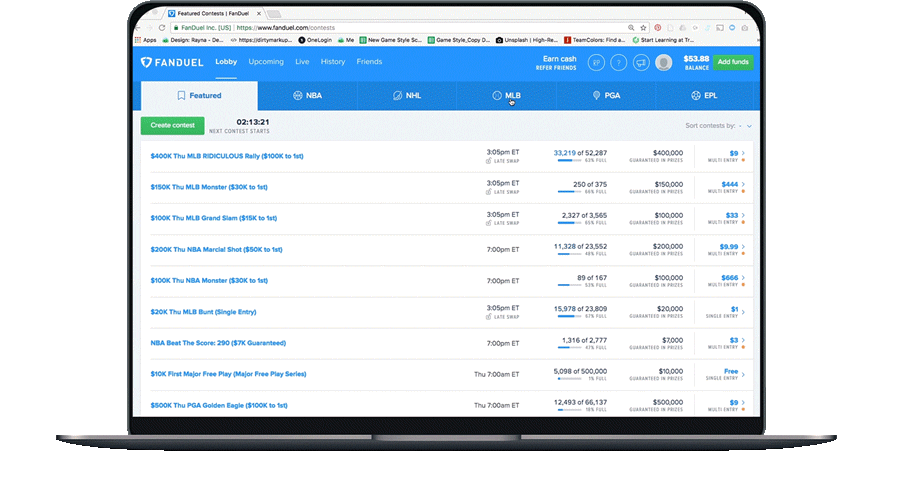 2. Pick Your Players
Build your team using any players you want. Just stay under the salary cap.
3. Watch & Win
The real fun starts when the games begin. Watch your score rise in real time and see what you win.
Identify Tough Opponents
Look for these player badges before entering contests, especially head-to-heads.
Experienced
Highly experienced
Get Support
We offer proactive tools and support to deliver a positive player experience.
Learn more
Ways to Play
Tournaments
High-paying contests with guaranteed prize pools
Beat the Score
Tournaments where the prize pool is shared evenly across all winners
Multipliers
Double your money or play for more
Head to Heads
Compete against a single opponent, winner takes all
3–100 Players
Compete against fewer players; multiple payout structures
50/50s
Finish in the top half to win
Beginners Only
Play against other FanDuel beginners; no experienced players allowed
Satellites & Qualifiers
Win to gain entry into another contest
Friends Mode
Play in a private league with your friends for up to the entire season
Recommended for new FanDuel Users
Want to Learn More?
Here are some other resources to help you learn the basics of FanDuel.