MLB News and Rumors
Red Sox Take Bold Approach in Rafael Devers Extension Talks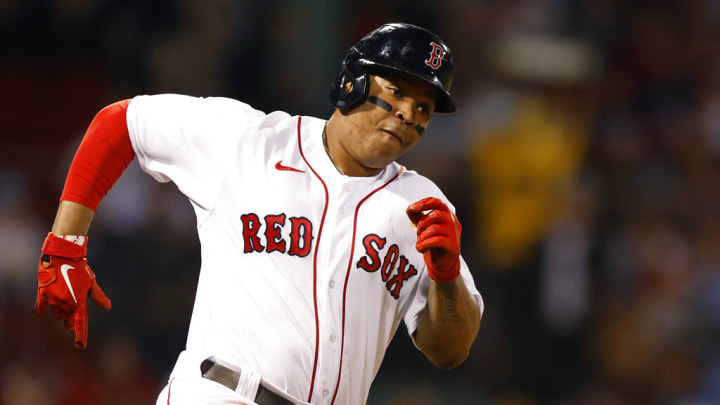 The Boston Red Sox are being more aggressive in their contract negotiations with Rafael Devers. / ASSOCIATED PRESS
The Boston Red Sox may be focused on re-signing Xander Bogaerts this offseason, but that doesn't mean they've forgotten about Rafael Devers.
Devers is heading into his final season of team control before free agency, but the Red Sox are looking to lock him up before he reaches the open market.
Rafael Devers Extension
Boston initially approached Devers with a contract extension offer before the 2022 season, which Devers rejected. The offer was later revealed to be comparable to Matt Olson's contract with the Atlanta Braves, which is for eight years and $168 million.
Devers was believed to be seeking a deal closer to $300 million, which it now sounds like the Red Sox are going to offer him. MLB insider Hector Gomez reports that Boston is expected to roughly double its opening offer, which would put the new contract's total value in the neighborhood that Devers wants.
This is good news for Red Sox fans, who are hoping to avoid a repeat of the Mookie Betts situation. Boston was unable to come to terms on a contract extension with Betts and shipped him to the Los Angeles Dodgers prior to the 2020 season, which has already proven to be one of the most disastrous trades in franchise history.
Devers, who just turned 26, is certainly worth the investment. The slugging third baseman is coming off back-to-back All-Star appearances and has established himself as one of the best hitters in baseball over the last several years. He's also a bona fide Yankee killer, which has endeared him to Red Sox fans and former players alike.
It appears that Boston has learned its lesson from the Betts fiasco. It was a hard lesson to learn, but at least it looks like the organization isn't going to make the same mistake twice.