MLB News and Rumors
MLB Insider Explains Why Orioles Shouldn't Take Top Prospect in ESPN's Final Mock Draft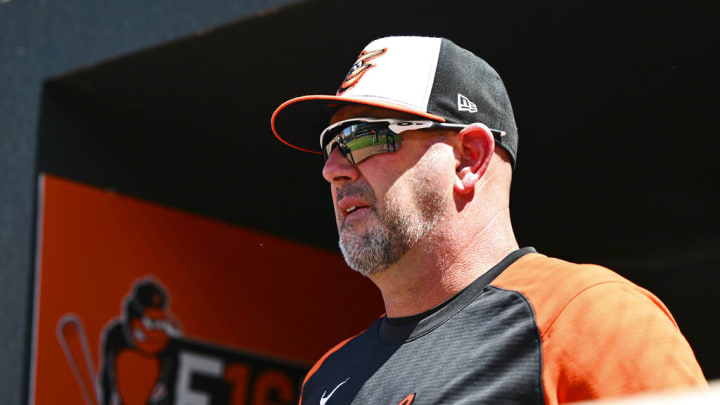 An MLB insider has explained why the Baltimore Orioles shouldn't take a top prospect in ESPN's final mock draft. / AP Photo/Terrance Williams
The 2022 MLB Draft is only days away, taking place on Sunday, July 17. While fans of all 30 teams are excited to see which prospects are added to their club's roster, all eyes will be on the Baltimore Orioles, who hold the first overall pick at this year's event.
There are a few high-end prospects that the Orioles could take at No. 1, such as Wesleyan High School's Druw Jones or Mays HS' Termarr Johnson. However, MLB insider Kiley McDaniel has made his case why Baltimore should select one of those prospects over the other in ESPN's final MLB mock draft.
Orioles Mock Draft
In his final mock, McDaniel has the Orioles taking Jones first overall over Johnson. While Baltimore could save "$2 million or more" by going with Johnson at No. 1, McDaniel says that management "have trouble stringing together $2 million type players."
There have been other situations where it makes sense to pass on a clear-cut top prospect, and make up for that talent with later early-round selections, but not in this situation. Nonetheless, it's an interesting side of the draft that dives deeper than standard rankings and picking the best players available.
Now, the Orioles could go with Johnson if they think that he's close enough to Jones' level while being confident that they can find a player worth using those savings on. If not, it makes sense to stick with the Vanderbilt commit.
McDaniel has been a big supporter of the Orioles taking Jones, so it isn't a surprise that the son of five-time MLB All-Star Andruw is still atop the rankings. The 18-year-old has all the tools to be a big player in the Majors, which is the type of talent Baltimore needs to stay afloat in the AL East.
Having said that, Johnson would be a perfectly acceptable first overall pick, too. Some scouts have the second baseman as a potential 30-home run hitter one day while also possessing decent defensive potential.
Fans won't have to wait too long to find out who the Orioles will select first. Day 1 of the 2022 MLB Draft can be watched on ESPN and the MLB Network on Sunday at 7 p.m. ET.